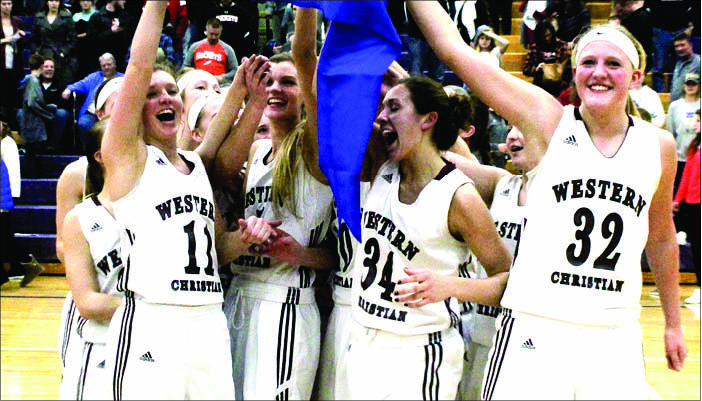 ROCK RAPIDS-Rock Valley had a rowdy crowd and a good game plan coming into the Class 2A girls' Region 1 tournament final Monday, Feb. 20, but fourth-ranked Western Christian was not going to be denied another chance at a state title and the Wolfpack defeated the Rockets 63-50 for its sixth-straight trip to the state tournament in Des Moines.
The Rock Valley faithful cheered loud and hard during the first eight minutes of play while the Rockets were on defense and that gave Rock Valley the momentum it needed to take a 13-12 lead heading into the second quarter.
"They came out hot, they knocked down a couple of quick shots, their crowd was into it and their players were jacked," said Western Christian coach Justin Negen. "They didn't want to be done playing tonight either. They gave us a great effort and I give them a lot of credit. Their coaches came in with a great game plan for us and this was a great atmosphere for a girls' basketball game. One of the loudest I've been around in a long time."
During the mid-period intermission, Negen decided to switch his team's defense from a man-to-man to a 2-3 zone. The strategy worked as the Wolfpack clawed back to take a 16-13 lead after two free throws by Ashtyn Veerbeek with 6:58 left to go until halftime. The Rockets countered with a 3-pointer to tie the score at 16, but Western Christian quickly found a hole in Rock Valley's defense. That weakness was being able to give the ball to Erika Feenstra who drove the lane for layups and got open 3s that resulted in 7-straight points scored and a 23-18 Wolfpack advantage.
"We were able to swing the ball around and that created openings for everyone around the basket. That was part of the reason I got the looks that I did," Feenstra said.
Negen noted that being able to break Rock Valley's 2-2-1 zone press was key.
"They were pressing up front, but we got it (the ball) over the top and she (Feenstra) was just in attack mode. She knocked down a 3 and she got to the rim, and that was a big stretch for us," Negen said.
Negen added that the switch to a 2-3 zone helped in multiple ways.
"They (Rock Valley) didn't score for a stretch, but it was a two-fold purpose," Negen said. "We like to switch defenses a little bit and we were in a little bit of foul trouble. We had a hard time not fouling in man, so we had to make the change. But we defended really well in it."
That stretch allowed Western Christian to claim a 10-point lead at 36-26 for halftime. But like the first half, Rock Valley came out hot again, this time scoring 6-straight points — 4 of those coming off steals — to trim the lead to 36-32.
The Wolfpack quickly stopped the run with two baskets by Veerbeek and a driving layup by Feenstra off the right baseline to pump the lead back up to double digits at 42-32. The teams traded baskets for the rest of the frame and the quarter ended with Western Christian holding a 46-36 advantage.
The Wolfpack, however, continued to have difficulty staying out of foul trouble which allowed the Rockets to have six chances to put points on the board with the clock stopped. Fortunately, Rock Valley only made three of those six attempts and Western Christian maintained a 52-45 lead with 1:59 to play. The Rockets were soon forced to foul to stop the clock, but the Wolfpack gave the ball to their best free-throw shooter, Veerbeek, and the junior post nailed 7-of-8 from the charity stripe to help Western Christian punch its sixth-straight trip to the state tournament. Veerbeek finished the night scoring a team-high 34 points.
"They punched right back at us at the beginning of the third quarter, but we just couldn't get over that 8-point hump. It was just kind of right there all the time. But we made free throws down the stretch and I'm just so proud of the girls' effort," Negen said.
After coming up short to rival Unity Christian in the state title game a year ago, the Wolfpack would love nothing more than to get that state title.
"We're really hungry. Last year we lost on that Friday and I remember coming in that Monday morning with several of my teammates in the weight room and practicing shots in the gym. We want it. We want it more than anyone else," Veerbeek said.
But Western Christian also doesn't want to look too far ahead.
"Last year was disappointing, but we just want to take it one game at a time and try to do our best," Feenstra said.
"We're going to take this thing one game at a time," Negen said. "I'm not thinking about that (a state championship) yet. We're going to enjoy this one tonight and tomorrow (Tuesday, Feb. 21), and then we'll get back to work. Once you get to the final eight, everyone's good. So we're just going to focus on the next practice, the next game and take things one game at a time. But, hopefully, we have a few (games) left in us."
The Wolfpack ended the night shooting 23-of-48 from the field for 48 percent and were 2-of-18 for 11 percent from the 3-point line. Western Christian also shot 15-of-17 for 88 percent from the free-throw line.
Individual statistics
Points:Ashtyn Veerbeek 34, Erika Feenstra 19, Jessi DeJager 9
Rebounds:Ashtyn Veerbeek 14, Erika Feenstra 6, Jessi DeJager 5
Assists:Erica Bousema 3, Jessi DeJager 2
Steals:Erika Feenstra 4
Blocks:Ashtyn Veerbeek 2, Jessi DeJager 1