Viola Meyn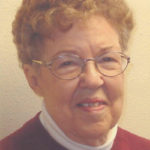 98
Sheldon, Iowa
May 22, 2019
Viola Meyn,  98 of Sheldon, Iowa, died Wednesday May 22, 2019, at Sanford Senior Care in Sheldon.
Graveside service will be at 11 a.m. Saturday, June 15, at Evergreen Lawn Cemetery, George, Iowa.
Viola Lena Lichtenberg was born Jan. 4, 1921, in Pipestone, Minnesota, to Otto and Ella (Hinsch) Lichtenberg. She attended country school and was raised on her grandparents' farm near Hull, Iowa.
In 1943, she married Bill Meyn. They made their home in George.
Survivors include her daughter Judi (David) Tjepkes of Gowrie, Iowa, three grandchildren and seven great-grandchildren.
She was preceded in death by her husband; brother, LeRoy "Bud" Lichtenberg; sister, Hilda Schuett, and infant great-grandson.