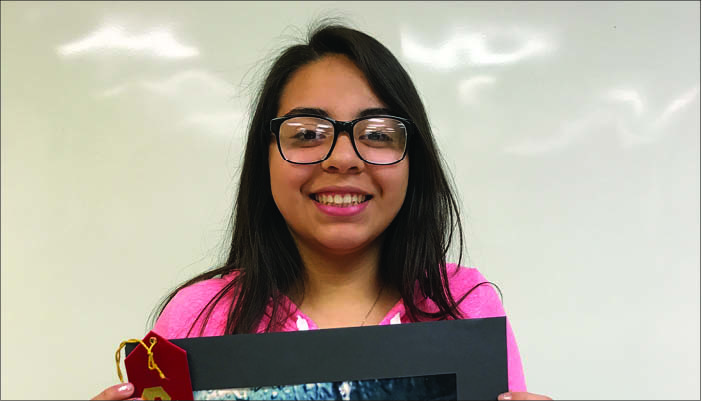 There are benefits to participating in art. Boyden-Hull High School's art teacher, Melissa Brantsen said, "Visual arts obviously helps students grow in creativity, but it also helps to increase their confidence, perseverance and focus. Having to think 'outside the box' in art class to create unique artworks improves their problem-solving and non-verbal skills, learning to communicate messages through other means other than speaking and writing."
Students don't always realize how much art and design is involved in daily life or in a future career. Learning art helps them to focus on thinking creatively, working through problem-solving situations, and becoming more independent and inventive by using those skills in other aspects of their lives. This is sometimes done, Brantsen said, "without even realizing it!"
High school art students at Boyden-Hull were able to put those skills to test last week by displaying their artwork at the Northwest Iowa Fine Arts Show, hosted by Northwest Iowa Community College April 18-26. Each student was able to submit two works of art in five submission categories: drawing, painting, digital media and photography, ceramics, and sculpture and mixed-media. The exhibit concluded with an invitational and award ceremony Wednesday, giving students an opportunity to visit the gallery and also participate in three hands-on activity workshops.
About 17 northwest Iowa high schools were invited to participate. Boyden-Hull had 14 students submit 25 pieces of artwork. First-, second- and third-place awards were given in each category, with honorable mentions awarded at the judge's discretion. Two overall awards were also given: Best Of Show chosen by the art teachers and Students' Choice as voted on by participating art students. Yvette Pinon, a junior at Boyden-Hull, took second place in the photography category with her project titled, "Droplet."
Brantsen explained, "When students participate in art shows, they are able to receive valuable constructive feedback regarding their pieces in general, and also their individual ability and style." She feels it's beneficial for students to participate and receive outside comments because it helps them grow and improve their craft.
They're also able to view other students' artwork and compare themselves to local peers from schools in the area. They gain valuable insight through other students' accomplishments and gather new ideas from viewing different methods and techniques. "Having artwork displayed can be very unnerving for students, but so rewarding! Seeing a student's face proudly light up as they see their artwork hanging on the wall surrounded by other works truly shows their confidence growing," Brantsen explained.
Gearing students up for the art show, Brantsen discusses how to present the artwork by properly labeling the exhibits and matting them. She explains how the layout of artwork in a museum or show can alter how people view it. She shows them how to take an in-depth look at a piece of art to see what message the artist portrays and to study the individual techniques and styles used. "I teach my students to think about how the artwork affects them on a personal level and how it speaks to them. Rather than simply deciding they like or dislike it, I teach them to focus on why they feel that way about the piece, forming more constructive criticisms," she explained.