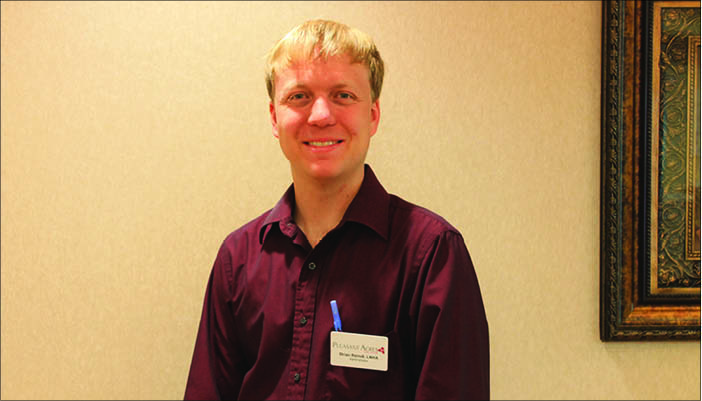 Brian Reindl began his career as administrator at Pleasant Acres Care Center Aug. 7. The 26-year-old Minnesota native isn't new to nursing homes; he was an interim administrator at a couple struggling nursing homes in Minnesota where his job was to turn them around and make them successful. But, Reindl stated, "This is my first Iowa facility."
He is originally from Albert Lea, Minnesota, where his parents still live. Reindl has always like the healthcare field. "But I didn't like the needles aspect of it," he said, laughing. That's why he decided to become an administrator. Reindl attended Concordia College in Moorhead, Minnesota, majoring in healthcare administration, which included long-term care administration and hospital administration. "Currently I am attending classes at the University of Minnesota-St. Mary's for my master's degree in health and human services," Reindl said.
Coupled with the location and the good things he'd heard about Trillium, parent company of Pleasant Acres, Reindl was enticed to apply for the Hull position. "I wanted to be a part of a group of homes that weren't just independent, to have that support and to really try to drive the positive quality of care," Reindl explained.
The position at Pleasant Acres is exactly what he`s looking for and the family-type environment appealed to him. He said, "I like building relationships with the families and the staff and getting to know kind of a different culture here," he said, referring to the Dutch influence.
Staffing can sometimes be a concern to the general functionality of a nursing home. Reindl wants to be sure Pleasant Acres staff is treated well and are encouraged to grow professionally. He also feels teamwork and a positive work experience is important and runs hand-in-hand with having happy residents. "That all has the biggest impact on resident quality of care and making sure that the residents have a positive experience," Reindl said.
To make Pleasant Acres feel like home for residents, Reindl is trying to eliminate some of the extra buzzers, loud noises, etc., that make the facility feel like an institution. Although he knows it may be a slow process, he's excited about changing this and focus on residents' needs.
Reindl has plenty of new ideas and anticipates making a few changes in the future. He said, "I kind of drive the ideas and process and then I get it approved by corporate. There definitely will be some changes but we don't always tell the changes until they're happening," he explained.
The relatively young management team has Reindl excited too. "We're looking forward to making some changes for the better and really driving the organization to be one of the best in the area," he concluded.