Meagan Bonestroo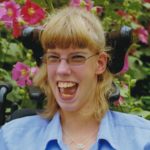 28
Sheldon, Iowa
October 18, 2018
Meagan Bonetroo, 28, of Sheldon, Iowa, passed away Thursday, Oct. 18, 2018, at Sanford Sheldon Medical Center.
Funeral services were Monday, Oct. 22, at First Reformed Church, Hull, with interment in Hope Cemetery, Hull.
Meagan Marie was born Jan. 26, 1990, in Sioux Falls, South Dakota, the daughter of Lyle and Sindy (Mulder) Bonestroo. She was raised in Hull, Iowa, where she attended Boyden Hull Community Schools through ninth grade. She then transferred to and graduated from Rock Valley Community High School. In September 2009, she moved to Village Northwest Unlimited.
Survivors include her parents and two brothers, Brady and Dylan Bonestroo, all of Boyden; grandfather, Arlyn Mulder of Sioux Center; aunts and uncles.
She was preceded in death by her grandparents, Alvin and Agnes Bonestroo and Viola Mulder.