Marjorie Van Driel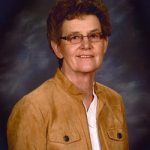 74
Ireton, Iowa
Aug. 22, 2018
Marjorie Sue Van Driel, 74, of Ireton, Iowa, passed away Wednesday, Aug. 22, 2018 at her residence under hospice care.
Sservices were Monday, Aug. 27, at First Reformed Church, Ireton, with interment in Pleasant Hill Cemetery.
Marjorie "Marge" Sue Van Engen was born Sept. 30, 1943, near Hills, Minnesota, the daughter of John and Gertrude (Termaat) Van Engen.
On March 19, 1965, she married Arlin Van Driel. They resided near Ireton. Her husband died June 1, 2008. Survivors include four children, Barbara (Everett) Johnson of North Mankato, Minnesota, Kevin (Susan) Van Driel of Hawarden, Iowa, Cindy Van Driel of Rock Valley, Iowa, and Daniel (Kristeen) Van Driel of Freeman, South Dakota; five grandchildren; one great-grandchild and her siblings, Rita (David) Busse of Hull, Iowa, Howard (Dorinda) of Hawarden, Wilmer (Linda) Van Engen of Hudson, South Dakota, Bruce (Lana) Van Engen of Sanborn, Iowa, and Kathy (Dale) Nussbaum and Debra (Kim) Nagel, all of Brookings, South Dakota.
She was preceded in death by her husband, her parents, two grandsons and one great-grandson.