Marilynn Boote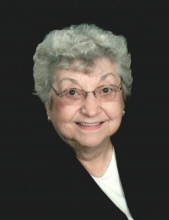 89
Hull, Iowa
May 9, 2018
Marilynn Boote, 89, of Hull, Iowa, passed away Wednesday, May 9, 2018, at Pleasant Acres Care Center in Hull.
Memorial service was Saturday, May 12, at First Reformed Church, Hull, with interment in Hope Cemetery, Hull.
Marilynn Joyce De Jong was born Jan. 25, 1929, at Hull, the daughter of Edward and Dena (Jellema) De Jong. She was raised on a farm near Hull, where she attended a country school in Rock Township and graduated from Western Christian High School.
On Dec. 21, 1949, she married Donald Boote. They made their home on a dairy farm near Hull, which is now within the city limits. In addition to being a homemaker and assisting on the farm, she was a bookkeeper at the Iowa State Bank in Hull. Her husband passed away Nov. 22, 1971. In 2015, she became a resident of Aspen Heights Assisted Living in Hull.
She was the first female member of the board of directors of Hope Haven in Rock Valley.
Survivors include five sons and one daughter, Ronald (Jane) Boote of Hull, Terry (Bette) Boote of Hull, Dennis (Jean) Boote of Fairview, South Dakota, Kevin B. (Janet) Boote of Fayetteville, Arkansas, Leah (Craig) Pennings of Orange City, Iowa, and Alan (Nicole) Boote of Binford, North Dakota; 16 grandchildren and 18 great-grandchildren.
She was preceded in death by her husband; her parents; a son, Bradley; a grandson and two brothers and their wives, Arthur and Edith De Jong and Tom and Hilda De Jong.