Lelon Goeringer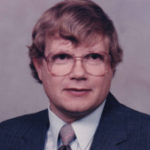 68
Hull, Iowa
December 4, 2018
Lelon Goeringer, 68, of Hull, Iowa, passed away Tuesday, Dec. 4, 2018, at Rock Rapids Health Centre.
Funeral service was Friday, Dec. 7, at St. Paul Lutheran Church, rural Hull, with interment in the church cemetery.
Lelon Verdean was born Aug. 19, 1950, in Le Mars, Iowa, the son of Ewald and Esther (Reyelts) Goeringer. He was raised in Hull where he graduated from public high school in 1969. He attended Humboldt Institute in Minneapolis, Minnesota, studying airline personnel training. Upon returning to Hull, he attended Northwest Iowa Community College in Sheldon. He took a welding course there and worked as a metal worker for a short time.
He then served five years as a custodian at Boyden-Hull Community School. From 1979-1987, he worked for the City of Hull, reading meters, maintaining parks and cleaning the community center. He then returned to the school for another six years. In 2003, he retired due to deteriorating health. In 2017, he moved to Rock Rapids Health Centre.
Survivors include his brother-in-law, Cornelius Wabeke of Newell, Iowa; a nephew, a niece, five great-nephews and great-nieces, two aunts and other relatives and friends.
He was preceded in death by his parents; sister, Delores Wabeke, and grandparents, the Rev. Edward and Emma Goeringer and August and Frieda Reyelts.