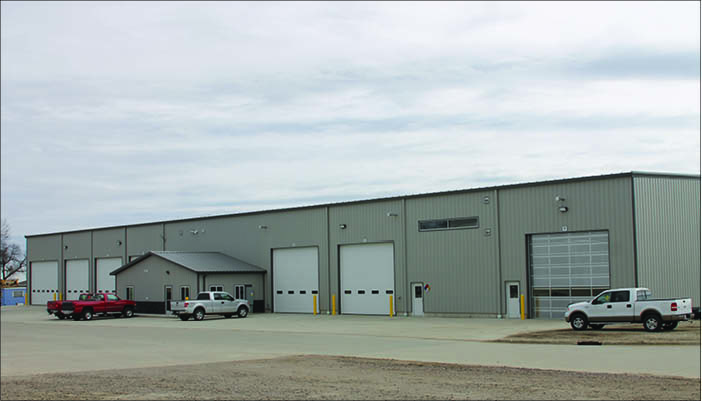 The final touches are almost done and Hull Co-op is ready to show off its agronomy center to the public. The grand opening will be Friday, March 24, with an open house from 10 a.m.-3 p.m. The facility is located just east of Hull Cenex on U.S. Highway 18. Hamburgers will be grilled by the Sioux County Cattlemen's Association for a noon lunch.
Construction on the building began exactly a year ago, and now staff are getting it ready for spring. The new 30,700-square-foot building is similar to having six buildings in one. It includes space for a seed warehouse, a crop protection warehouse, a shop and maintenance area, a truck and equipment storage area, a wash bay, and office space with a training room.
Employees are enjoying the use of the building and have enjoyed the benefits. The indoor shop area has allowed them more pleasant working conditions while getting the application equipment ready for spring. The added convenience of the wash bays has been great and has been getting a lot of use. An indoor loading dock area for customers is another perk.
Four semis can now be parked inside. The heated area gives the trucks a place to melt off if they come in full of ice and snow, which was space they never had. "We had trucks parked in every nook and cranny, or dollied the trailer down every day to park the tractor (inside) and now we just run the whole thing in," said Evan Wielenga, agronomy manager.
The shop area can accommodate the large sprayers and the added convenience of an overhead crane allows work to be completed more safely and efficiently. "It lifts heavy parts or, once in a while, you'll have to make a repair to the boom or something that's heavy," Wielenga said. That type of work used to be done with forklifts, so this is much more convenient.