Gertrude Vander Schaaf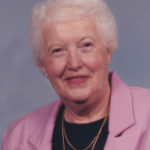 92
Hull, Iowa
November 11, 2018
Gertrude Vander Schaaf, 92 of Hull, Iowa, died Sunday, Nov. 11, 2018.
Funeral services were Saturday, Nov. 17, at First Reformed Church, Orange City, Iowa, with interment in West Lawn Cemetery, Orange City.
Gertrude Roghair was born Oct. 10, 1926, in Okaton, South Dakota, the daughter of Henry and Cornelia (Cleveringa) Roghair. She was raised in Okaton where she attended and graduated from the public school.
On Jan. 2, 1947, she married John E. Henry Vander Schaaf. They farmed the Vander Schaaf family farm until 1981, when they retired into Orange City. In February 2014, they moved to Pleasant Acres Care Center in Hull. Her husband passed away Oct. 8, 2015.
Survivors include three sons, Robert (Debora) Vander Schaaf of Orange City, David (Renae) Vander Schaaf of Alton, Iowa, and Dennis (Patricia) Vander Schaaf of Sheldon, Iowa; a daughter, Sharon (Kenneth) Welker of Glidden, Wisconsin; 13 grandchildren; two stepgrandchildren; 18 great-grandchildren; and a brother, Robert (Bessie) Roghair of Okaton.
She was preceded in death by her parents; husband; a great-grandson and her siblings, Edward (Margaret) Roghair, Hilda Roghair, Jacob (Grace) Roghair, Harriet (Dick) Noteboom, Janetta (Bill) Kelly, Nicholas Albert (Eva) Roghair, Hilda (Don) Prielip, Alice (Cornelius) Oostwouder, William G. Roghair, Joanna (Bud) Grover and Theodore Roghair.