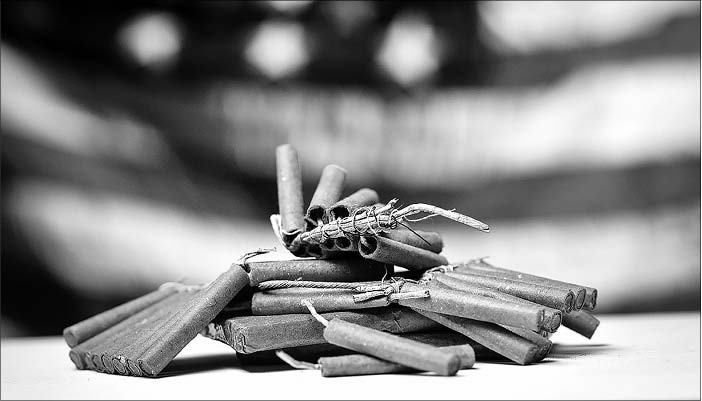 Iowans won't have to drive to surrounding states to buy fireworks this year, after Gov. Terry Branstad signed the fireworks legalization bill earlier this month.
In fact, purchasing fireworks will be fairly convenient.
Joel Bousema, an owner of It's Lit Fireworks, plans to sell fireworks at the corner of Highway 18 and Division Street in Hull, on the same lot as Capital Carwash. Bousema of Sheldon will set up mobile sheds June 13, the first day fireworks can be sold from temporary structures, according to Iowa law.
He'll also be selling fireworks in Rock Rapids, Sioux Center, LeMars, Alton, Rock Valley and Sheldon.
"We plan to set up two decent-sized sheds on that parking lot and sell everything from the novelty fireworks, such as smoke bombs and sparklers to some really big fireworks," said Bousema. "The sheds will have lots of room so we'll have a nice selection of fireworks.
"Not only will people have the convenience of buying fireworks locally, but the money will stay local and go back into our communities," he added. "We hope to hire people from the community to help sell fireworks."
The new Iowa law allows licensed retailers or community groups to sell consumer-grade fireworks out of permanent structures between June 1 and July 8 and again from Dec. 10 and Jan. 3.
Sales from temporary structures, like Bousema's, are allowed from June 13 through July 8 each year.
The law also has several other restrictions:
• Fireworks can be set off from 9 a.m. to 10 p.m. June 1 to July 8 and again on Dec. 10 to Jan. 3 each year, but with some expanded hours on certain dates.
• Those expanded hours are between 9 a.m. and 11 p.m. July 4 and the Saturday and Sunday before and after it; between 9 a.m. Dec. 31 and 12:30 a.m. Jan. 1; and between 9 a.m. and 11 p.m. on the Saturday and Sunday before and after Dec. 31.
The sale or purchase of fireworks involving anyone under age 18 is a violation punishable by a fine between $250 and $625.
Iowa Sen. Randy Feenstra of Hull voted in favor of the new fireworks bill.
"I've always supported legalizing fireworks because of our district's close proximity to South Dakota. People were just driving over there to buy fireworks and the same thing was happening in eastern and southern Iowa. Plus, no tickets were being written for fireworks violations so we decided to legalize the sale of fireworks and collect the taxes," he said.
The Iowa Legislative Service Agency estimates fireworks sales this budget year at about $17.8 million, with sales tax revenues to the state's general fund of about $1.1 million. In fiscal year 2018, fireworks sales are forecast at about $24.8 million with general fund sales tax revenue of about $1.5 million.
Most licenses would be for temporary retailers and very few permanent structures would be built and licensed, the agency believes.