Evelyn Van Essen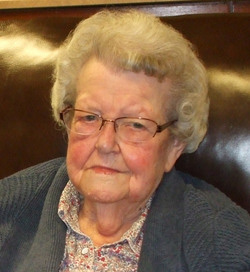 97
Sioux Center, Iowa
May 17, 2018
Evelyn "Effie" Van Essen, 97, of Sioux Center, Iowa, died Thursday, May 17, 2018, at Royale Meadows Care Center, Sioux Center.
Funeral services were Tuesday, May 22, at Porter Funeral Home, Rock Valley, Iowa, with interment in Valley View Cemetery, Rock Valley.
Evelyn Kelderman was born March 9, 1921, to Arie and Wilhelmina (Beukhof) Kelderman.
On Oct. 1, 1942, she married Henry Van Essen. They farmed in the Inwood, Iowa, and Fairview, South Dakota, area until their retirement in 1978 when they moved to Rock Valley. She was a hired maid in the Fairview area. Her husband died May 19, 1980. She lived at Aspen Heights Assisted Living in Hull, Iowa, before moving to Royale Meadows in Sioux Center.
Survivors include four children, Marcia (Tony) Rozeboom of Bruno, Arkansas, Ethel (Earl) Fick of Hull, Harold (Lavonne) Van Essen of Sioux Center and Arvin (Carol) Van Essen of Rock Valley; 15 grandchildren, 41 great-grandchildren; two great-great-grandchildren; sister, Jeanette Gorter of Doon, Iowa; sister-in-law, Gertrude Kelderman of Rock Valley, and brother-in-law, James Decker of Sioux Falls, South Dakota.
She was preceded in death by her parents; husband; brother, Art Kelderman, and two sisters, Joyce Decker and Myrt "Minnie" Keizer.