Duane Vande Griend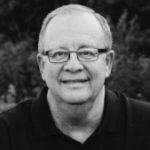 66
Hull, Iowa
May 20, 2019
Duane Vande Griend, 66, of Hull, Iowa, passed away Monday, May 20, 2019, at his residence.
Memorial service was Friday, May 24, at Hope Christian Reformed Church, Hull, with interment in Hope Cemetery, Hull. 
Duane Lee was born Oct. 12, 1952, in Sioux Center, Iowa, the son of Edward and Betty (De Wit) Vande Griend. He was raised near Boyden and attended Hull Christian School and graduated from Western Christian High School in Hull.
On April 5, 1974, he married Aletha Brummel. They made their home in the Boyden area for a year before moving to Hull. He helped his parents on the family farm until 1975, when he started working at Sioux-Preme/Perdue Packing Co. in Sioux Center. He worked there until retiring in 2017.
Survivors include his wife; three sons, Mick (Koty) Vande Griend of Sioux Center, Joe (Kim) Vande Griend of Denver, Colorado, and Tyler Vande Griend of Hull; six grandchildren; his father of Arizona; his mother of Sioux Center; three brothers, Doug (Carla) Vande Griend of Salem, Oregon, Rick (Karen) Vande Griend of Woodburn, Oregon, and Randy (Cinda) Vande Griend of Rock Valley, Iowa; a sister, Lisa (Bruce) Van Aartsen of Columbia, Maryland, and three brothers-in-law, Andy (Marilyn) Brummel of Williamsburg, Iowa, Ed (Natalie) Brummel of Sioux Center and Larry (Maria) Brummel of McGregor, Iowa.
He was preceded in death by his parents-in-law, Albert and Gertrude Brummel.