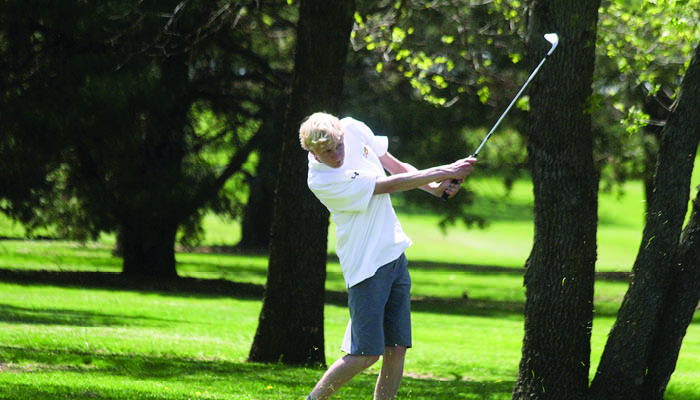 HULL-The Boyden-Hull boys' golf team had the advantage of playing on its home course at Rolling Hills Golf Club in Hull for the Class 1A sectional meet Friday and the Comets took advantage of that fact, to say the least. Meanwhile, Trinity Christian fell 8 strokes short of advancing its team to state, but Andrew DeBoer finished tied for seventh and advanced as an individual.
Boyden-Hull won the sectional tournament with 327 strokes, 22 strokes better than second-place Central Lyon. The other two teams that advanced were Akron-Westfield and West Sioux.
"We shot a pretty good score. We were one stroke away from a very good score, but we can't be unhappy with a 327," said Comets' coach Brad Van Roekel.
Boyden-Hull had three golfers finish in the top four individually with Keaton Van Roekel winning the individual sectional crown with an 18-hole round of 78. Marcus Rens tied for second place individually with Central Lyon's Brandt Boekhout. Both golfers shot a 79. The final golfer to crack the top four was Kyle Baartman. He placed fourth with an 81.
"I think we stayed away from the double bogeys for the most part. Those are the scores that have been hurting us the last couple of meets," coach Van Roekel said.
However, Van Roekel noted he wants to see even lower scores next week.
"We need to work hard over the next week to make sure we are sharp for districts. Our goal has been to have four scores at 41 or lower, or four scores at 81 or lower. We are getting closer to doing that. Hopefully it will all come together next Thursday at districts," he said.
Trinity Christian finished the day with a score of 384, 8 strokes shy of advancing the team to the district meet. Despite the finish, the Tigers will still have a representative for them in Fort Dodge, Andrew DeBoer. He finished tied for seventh individually with an 18-hole round score of 87.
"Really proud of Andrew for moving on and cannot wait to see how he does Thursday," said Trinity Christian coach Jordan DeBoer. "Really impressed with how our team played today. We were only 8 strokes away as a team from advancing, which is a great sign for next season."
Class 1A sectional golf at Rolling Hill Golf Club in Hull
Team results:1. Boyden-Hull 327, 2. Central Lyon 349, 3. Akron-Westfield 376, 4. West Sioux 383, 5. Trinity Christian 384, 6. LeMars Gehlen Catholic 414
Boyden-Hull cards:Keaton Van Roekel (first-place individual medalist) 41-37, 78; Marcus Rens (second-place individual medalist) 41-38, 78; Kyle Baartman (fourth-place individual medalist) 39-42, 81; Davis Van Roekel 46-43, 89, Logan Brunsting 47-46, 93, Tyler Woelber 50-46, 96.
Trinity Christian cards:Andrew DeBoer (seventh-place medalist) 40-47, 87, Logan Cleveringa 44-47, 91, Caden Vis 47-49, 96, Tyler Van Maanen 56-54, 110, Dawson Vis 52-63, 115, Justin Vander Veen 68-58, 126.