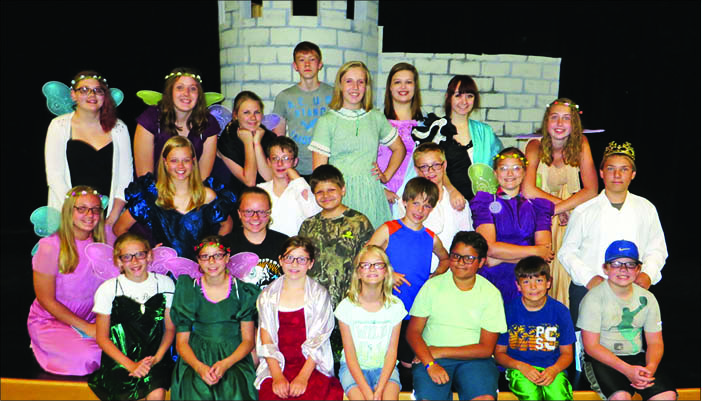 The Boyden-Hull Summer Theatre Troupe will present the musical "Princess Whatsername" Friday, July 7, at 7 p.m. and Saturday, July 8, at 3 p.m. in the Boyden-Hull Theater during Hull's Summerfest weekend.
"Princess Whatsername" combines a fairy-tale setting and several fairy-tale characters — Hansel and Gretel, Rumpelstiltskin, Goldilocks and the three Bears, Snow White, Cinderella and Rapunzel to name a few — with entertaining musical numbers and a plot full of mystery and adventure.
Melissa Richter directs the musical.
Tickets can be reserved by calling 439-1810 or email usborne@premieronline.net. Tickets will also be available at the door.
This is the eighth year for the summer theatre troupe, which was organized in 2010, and includes about 35 Boyden-Hull students in grades 4-12, including cast and crew. It is promoted by the Boyden-Hull Education Association as a fine arts opportunity for BH students.
Summer theatre has been successful because of the dedication of students and adults, according to Marj Wagner, who started the program and now serves as theater manager.
"We've been very fortunate to have a variety of ages participate in our productions," she said. "The older students usually fill the lead roles and provide leadership for the younger students."
This year the summer theater cast includes four students who have been in each production since 2010 — Kelana DeRuyter, Audrey Kreun, Melissa Hinderks and Elise Visscher. All of the girls will be seniors and are also involved in the school's speech program.
"We also have a lot of adults involved," added Wagner. "Laurel Slice is our pianist and Julie Anderson is in charge of wardrobe and is on stage helping the kids. Plus, we have lots of moms who help out."
The program continues to be successful and most performances are sold out. Ticket sales and donations fund production costs from year to year.
Wagner promises the audience will enjoy another great musical this year. "It's all the nursery rhymes rolled into one. It's a lot of fun," she laughed. "The Summer Theatre really adds to Summerfest."