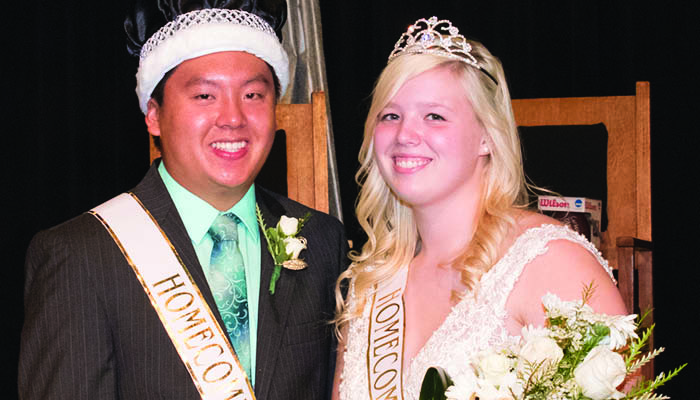 Boyden-Hull High School celebrated homecoming last week Sept. 18-22.

A dress-up theme was featured each day and students could be found wearing various forms of corresponding attire throughout the week.

On Monday, pajama day, students wore a variety of sleeping attire, including slippers and housecoats. Tuesday was neon day and bright colors could be seen everywhere.

Wednesday's dress-up theme was Holiday Dress and students were encouraged to dress in their favorite holiday. Thursday was Beach/Luau day and the day was also themed for volleyball. Spirit Day was Friday and most students wore Comet and Nighthawk attire.

Coronation ceremonies were Tuesday evening. Each class presented a skit and coaches of the volleyball, cross-country and football teams spoke. Tory Van Voorst sang "Try."

The 2016 king and queen, Shane Solberg and Kaylee Anderson, were present to crown the 2017 royalty. Chosen as homecoming queen was Alex Tiedemann, daughter of Mark and Angie Den Besten and Rich Tiedemann. Peter Liu, son of Greg and Grace Moret, was chosen homecoming king. Joanne Luevano was chosen as first runner-up to the queen and Logan Brunsting was chosen as first runner-up to the king. Representing the remainder of the court were Kaitlyn Van Der Zwaag, Hannah Vande Stroet, Janaya Zoet, Dylan Harman, Carter Olso, and Keaton Van Roekel. Pages for the royal court were Boyden-Hull first-graders, Jaelyn De Jongh, daughter of Jeff and the late Carrie De Jongh, and Brevin Woelber, son of Troy and Tina Woelber.

A homecoming waffle breakfast was served Friday morning to raise funds for the school. A burger and fry meal was served outside for the students' noon meal. Homecoming games and activities filled up Friday afternoon.

A tailgate meal of pulled pork, chips and a drink was served Friday evening at the football field. Proceeds went to the Boyden-Hull Boosters Club.

At the conclusion of the week, the Boyden-Hull/Rock Valley Nighthawks' football team took the field against Pocahontas Area Indians Friday night. They barreled headlong into a 56-0 homecoming victory. A dance finished out the evening for the high school students.