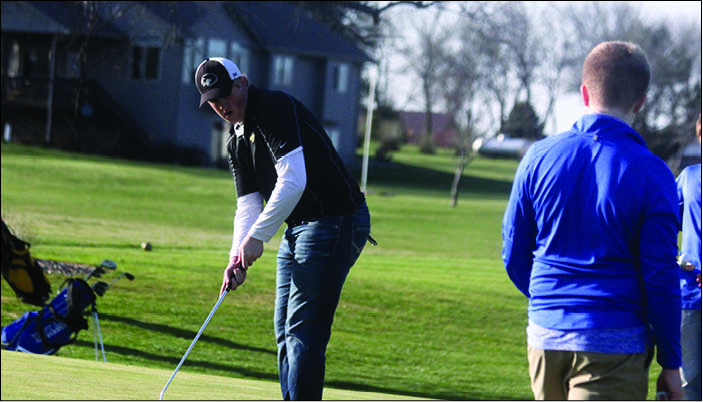 LARCHWOOD-After a rainy Monday, April 10, weather conditions were near perfect to play Siouxland Conference boys' golf at Meadow Acres Golf and Country Club Tuesday, April 11 and the Boyden-Hull team took advantage of that fact.
Temperatures were in the low 60s with a light breeze and sunny skies as the meet began and all the Siouxland Conference golfers came back with scores that reflected those conditions. The Comets ended the day with a season-low of 160. Sheldon won the meet with 145 team strokes.
Individually, Boyden-Hull was led by fifth-place medalist Davis Van Roekel with a 36. Marcus Rens came in with a 38, Kyle Baartman had a 43 and Austin Moss had a 44. Logan Brunsting was the last card counted with a 47.
"It was a great night to play golf. The weather was nice and the course was in very good shape. This resulted in very good team scores," said Comets' coach Brad Van Roekel. "One hundred sixty is a very good score for us. It was nice to see two scores in the 30s. It was also nice to see different players shoot low scores."
Van Roekel noted that being able to keep those low scores will be key in the next few meets.
"The goal continues to be to try and eliminate big scores. We did a better job of that last night and will continue to work on that," he said.
Siouxland Conference boys' golf at Meadow Acres Golf and Country Club in Larchwood
Team results:1. Sheldon 145, 2. MOC-Floyd Valley 151, 3. Boyden-Hull 160, 5. Central Lyon 165, 6. West Lyon 165, 7. Rock Valley 204, 8. Sibley-Ocheyedan 215
Boyden-Hull cards:Davis Van Roekel 36 (fifth place overall individually), Marcus Rens 38, Kyle Baartman 43, Austin Moss 43, Logan Brunsting 47