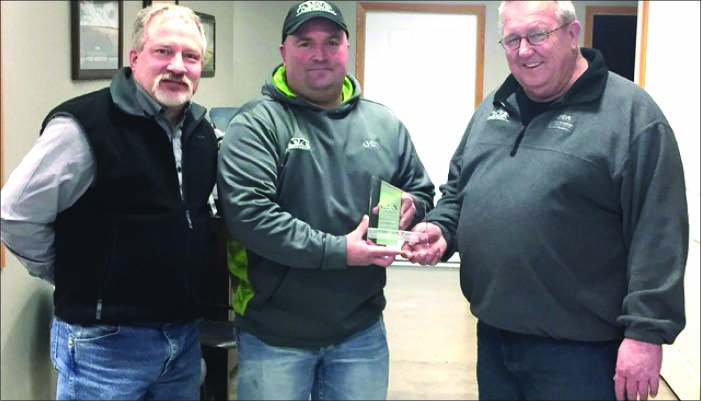 Dave Mulder, a salesman for Automated Waste Systems Inc., and his wife, Joy, were treated to an all-expense-paid trip to Puerto Vallarta, Mexico, Jan. 14-21. The trip was part of an award Automated Waste Systems Inc. received from GEA Houle for top sales performance in GEA/Houle manure equipment. The local company was the top United States dealer in 2016 and was No. 1 in sales volume for the entire North American continent. Automated Waste Systems Inc. has held the No. 1 spot since 2009.
Mulder had gone to a similar conference three years ago and owners decided to send Mulder again because they thought he could use a vacation. He explained, "Last summer I got leukemia and then spent most of the rest of the year in the hospital." He finally came back to work in November, so spending nearly a week in Mexico was just what he needed.
GEA Houle actually rented a resort in Mexico for the over 600 people and dealers from the top-placing companies who were invited on the trip. Along with some free time, attendees also attended a number of conferences. They learned the company's plans for new products, continued promotions and what's being discontinued. Evenings were filled with entertaining shows.
At the awards banquet, Mulder and his wife accepted the top sales award. He feels receiving the award comes down to hard work, good people and their customers.
Automated Waste Systems Inc. has been serving customers in the Hull area since January 2002. In 2007, Luke Jungers and Leon Mulder (Dave's father) who had both already been working there and a silent partner bought the company. Currently, they have 24 employees.
Automated Waste Systems Inc. worked hard to attain the top position by making customers feel comfortable. "We just had to do our best as far as keeping our customers happy," Mulder explained. "I think we just had to be honest and treat our customers with respect."
Another thing Mulder felt attributed to Automated Waste Systems' success, "there's more manure in this part of the world than in any other." He laughed, explaining that having the most manure in the world does no good if you don't focus on the customer's needs.
Having good employees who take care of their customers is an asset too. Dedicated employees — the parts guys, those who do repairs, the sales team — everyone comes together to make it possible. "Sales, repairs, service and parts, that's everything we do. We can't do one without the other, it's all three of them," Mulder explained.
Mulder was thankful to have been chosen to go on the trip and glad to have been able to return to work after the long, challenging summer. His wife and three children (ages 18, 9 and 5) are excited that recent test results are negative and show the leukemia is gone. Mulder's grateful he's feeling much better and considers himself fortunate to be alive. Although he doesn't understand why God chose to spare him, he recognizes there must be a bigger plan. Going from not being able to walk without a walker to being back to work and almost back to normal, he said, "God has been extremely good to me as far as getting me through this."