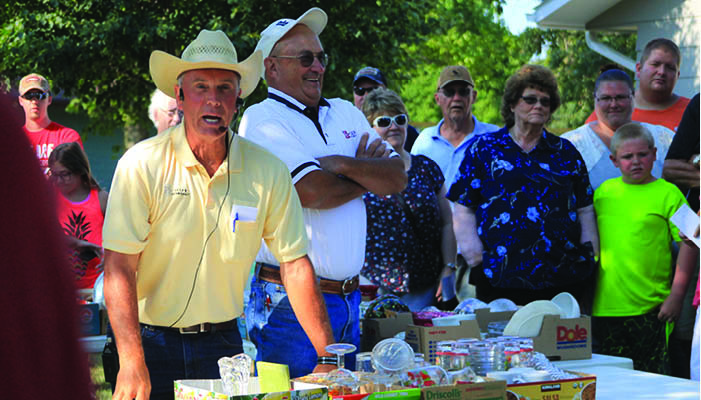 Del Beyer grew up on a Boyden farm, hearing his dad dabble occasionally in auctioneering and also going with his father to the sale barn where he was fascinated by the auctioneers. "It has always intrigued me," Beyer said.
Del has lived in rural Boyden all his life. He farmed and raised livestock several years. He had several auctions on his own, but later decided to attend the World-Wide College of Auctioneering at Mason City, Iowa, in 1986. It was a good learning experience and some opportunities presented themselves there that could have totally changed his life, but he decided to take his skills back to Boyden and his home area.
He formed Beyer Auction Service a few years later, and "It kind of just took off on its own," he explained. Eventually he chose to incorporate real estate with the business, and earned his Realtor's license, and then his Broker's license a few years later in 1995. He and his wife, Lola, who also obtained her Realtor's license, ran their business, Beyer Auction & Realty, from their home office for many years. In 2007, they purchased their present office in Sioux Center, Iowa.
He has enjoyed being situated in Sioux Center because of it being centrally-located for convenience to the public, as well as for his six agents/Realtors located in Alton, Hospers, Ireton and Sioux Center. Two of the Realtors associated with his office are also auctioneers.
The auction world has evolved and changed a lot throughout the years, and Beyer Auction & Realty has been challenged to adapt to the fluctuating trends. Through it all, Beyer says he loves the excitement an auction generates and the opportunity to meet a variety of people.
He said he has also greatly enjoyed learning the semantics of the online auction process, and the greater challenge of combining live auctions with the online process (simulcast). "It's a learning process," Beyer remarked, "but I love it." Sellers find that making their items available to the world generally increases the profitability of the process. Buyers have far more flexibility with the ability to bid using their cell phones or iPads; bidding via computer or lap top at home, office, the beach — anywhere, anytime, and not be confined to a short time constraint of two to three hours or the need to be physically present, as with a live auction. In determining the best method (live or online) for an individual auction, Beyer meets with the client to explore the type of items to be sold, and that individuals' preference/needs. "There is a greater flexibility in having choices," he explained.
Beyer has been a part of an alliance of 60 to 75 fellow auctioneers throughout the nation, called MarkNet Alliance, who have networked together to increase each one's online exposure. The alliance has several hundred auctions being conducted every week, with some being online, some live and some simulcast — and many genres, including farmland, real estate, heavy equipment, collectibles/antiques, estate auctions and more.
Beyer has most recently been active in forming a new auction company, the Iowa Auction Group LLC, which is a fresh concept of combining five seasoned auctioneer professionals who have a combination of over 170 years of varied auction experience. They provide a wider spectrum of services, implementing the latest technology in the auction world, and have been working larger auctions together. "It's been going very well, and has been an exciting concept," says Beyer. In addition to Beyer himself, the group includes auctioneers in Storm Lake, Remsen, Cherokee and Mapleton.
The Beyers recently purchased a home in Sioux Center and have enjoyed being located closer to the office there, but cherish the core values and relationships cultivated over the years in Boyden. "I still have a real interest in Boyden, and remain fully interested and committed to the auction and real estate needs there," Beyer explained. He values a good working relationship with many area Realtors and auctioneers.