Anthony Smit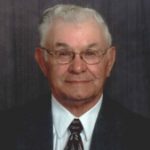 91
Hull, Iowa
July 9, 2018
Anthony Smit, 91, of Hull, Iowa, passed away Monday, July 9, 2018, at Pleasant Acres Care Center, Hull.
Memorial service was Thursday, July 12, at First Christian Reformed Church, Hull, with interment in Hope Cemetery, Hull.
Anthony James Smit was born Aug. 15, 1926, at Hull, the son of John Thomas and Maggie (Riemersma) Smit. He was raised at Hull, where he attended country schools. He served in the U.S. Army during World War II.
On Feb. 25, 1948, he married Wilmina Van Den Oever. They farmed at Sheldon, Hull, Hills, Minnesota, and Doon. In 1993, they moved into Hull. His wife passed away Dec. 9, 1998.
On March 6, 2003, he married Ellen (Cuperus) Blom. They lived in Hull. Ellen passed away May 13, 2012. In October 2015, he became a resident of Aspen Heights Assisted Living in Hull.
Survivors include his son, James (Carol) Smit of Omaha, Nebraska; two daughters, Mary (Don) Krommendyk of Hull and Marlys (Jerry) De Groot of Alton, Iowa; eight grandchildren; 22 great-grandchildren; three sisters, Marguerite Valentine of Artesia, California, Julia (John) Vander Ploeg of Sioux Center, Iowa, and Adrianna (Bill) Sneller, of Luverne, Minnesota; two sisters-in-law, Lucille Smit and June (Smit) Broek; four stepchildren, Noella (Edwin) Haveman of Hull, Sharleen Van Hofwegen of Colton, South Dakota, Bonnie (Philip) De Stigter of Sioux Center, and LuAnn De Wild of Hull; and three sisters of Wilmina, Joan Boeve and Evelyn Rens, both of Hills, and LaVonne (Hilmore) Kroese of Hull.
In addition to his parents and wives, he was preceded in death by a stepson, Peter Van Hofwegen; a stepson-in-law, Eldon De Wild; and a brother and five sisters of Wilmina, John (Claretta) Mulder, Gertrude (Herman) Vander Vliet, Jean (John Russell) Vander Zwaag, Cynthia (Ralph) Oostra, Henrietta (George) Wassenaar and Catherine (John Elmer) De Wit; and two brothers-in-law of Wilmina, Donald Boeve and Marvin Rens.