Alwena Dolieslager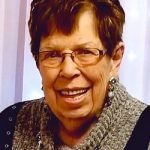 83
Sioux Center, Iowa
July 26, 2018
Alwena, A. Dolieslager, 83, of Sioux Center, Iowa, passed away Thursday, July 26, 2018 at Sioux Center Health.
Funeral service was Monday, July 30 at Memorial Funeral Home, Sioux Center.
Alwena Van Dyke was born March 15, 1935, in Rapelje, Montana, to John and Dora (Riedstra) Van Dyke. The family moved to Fremont, Michigan, in March 1944. She attended Fremont Christian School and graduated from Fremont High School in 1953. After graduation, she moved to Sheldon, Iowa, where she was employed by Prins Insurance in Sanborn, Iowa.
On March 15, 1957, she married Gerald Dolieslager. They lived near Sioux Center where she was a child daycare provider several years and helped her husband in the upholstery business. Later, she worked for Big Dutch in Sioux Center.
Survivors include two children, Carol (Bryan) Vande Stouwe of Hull, Iowa, and Gary (Teri) Dolieslager of Sioux Center; four grandchildren; 11 great-grandchildren; a brother, Abe (Everdean) Van Dyke; sister-in-law, Doreen Van Dyke; brother-in-law, Corwin (Harriet) Dolieslager; and many nieces and nephews.
She was preceded in death by her husband; her siblings, Tom (Bertha) Van Dyke, Albert Van Dyke, Jessie (Ken) Lemmer and Henrietta (Leonard) Tellinghuisen, and a granddaughter.