Marie Mouw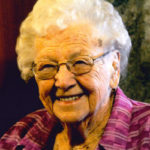 102
Sioux Center, Iowa
December 29, 2018
Marie Mouw, 102, of Sioux Center, Iowa, died Saturday, Dec. 29, 2018, at Royale Meadows Care Center, Sioux Center.
Memorial service was Wednesday, Jan. 2, at Central Reformed Church, Sioux Center, with interment at Sheridan Township Cemetery, Boyden, Iowa.
Johanna Marie Rozeboom was born Feb. 12, 1916, near Kanawha, Iowa, to Tunis and Jennie (Roskamp) Rozeboom. She attended country school near Carmel, Iowa.
On Aug. 26, 1937, she married Bernard Mouw. They farmed near Sioux Center. In 1948, the couple moved to a farm near Boyden. In 1975 they retired and moved into Boyden. She worked as a nurse aide over 10 years, then worked as a volunteer for hospice. Her husband passed away in 1988. In January 1990 she moved to Sioux Center. She eventually moved to Crowne Point and onto Royale Meadows.
Survivors include son, John (Judie) Mouw of Davenport, Iowa; daughter, Janet Franke of Lake Havasu City, Arizona; son, Ken (Colleen) Mouw of Elk Point, South Dakota; daughter, Phyllis (Collyn) Peterson of Overland Park, Kansas; son, Robert (Shirley) Mouw of Alton, Iowa; son-in-law, Bill (Shirley) Muilenburg of Orange City, Iowa; 16 grandchildren; 35 great-grandchildren; several great-great-grandchildren; sisters, Wilma Tiemeyer, Margaret Brock and Marilyn Vander Esch, all of Michigan, and Arlene Bidwell of Sioux Center; sisters-in-law, Donna Rozeboom of Michigan and Mina Mouw of Sioux Center; nieces, nephews and other extended family members.
She was preceded in death by her parents; husband; daughter, Norma Muilenburg; son-in-law, Dean Franke; granddaughter; two great-grandchildren and granddaughter-in-law.