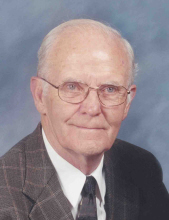 90
Hull, Iowa
May 11, 2020
Harold Klay, 90, of Hull, Iowa, passed away Monday, May 11, 2020, at Sioux Center Health.
Funeral service was Friday, May 15, at Oolman Funeral Home, Hull, with interment in Hope Cemetery, Hull.
Harold Thomas was born Sept. 14, 1929, near Rock Valley, Iowa, son of Tennis and Tillie (Postma) Klay. The following year, the family moved to a farm near Hull. He attended country school and graduated from Western Christian High School in 1946. He had several different jobs including working for Northwestern Bell Telephone Company 42-1/2 half years, retiring in December 1992.
On Sept. 14, 1951, he married Freda Kroese. They lived in Hull until he was drafted into the U.S. Army Dec. 5, 1951 and served two years. He was recognized as a 70-year member of Wegman-Koele American Legion Post in Hull on March 15, 2018. His wife passed away June 26, 2015
Survivors include his sister, Dolores "Dottie" Van Iwaarden of Vista, California; two brothers-in-law, Charles (Darlene) Kroese and John (Joyce) Kroese, all of Hull; and numerous nephews and nieces.
In addition to his parents and wife, he was preceded in death by two brothers, Roger (Johanna and Pearl) Klay and Merle (Irma Scholten) Klay; two sisters, Dorothy Klay in infancy, and Marilyn (Duane) Rapp; a sister-in-law, Hilda (Tom) De Jong, and two brothers-in-law, Marion Koele and Leo Van Engen.