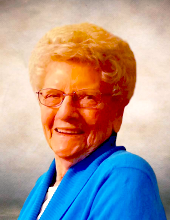 95
Sheldon,Iowa
December 6, 2020
Agnes Hulst, 95, of Sheldon, Iowa, passed away Sunday, Dec. 6, 2020, at Sanford Sheldon Senior Care.Funeral service was Wednesday, Dec. 9, at Oolman Funeral Home, Hull, Iowa, with interment in Hope Cemetery, Hull.
Agnes Roozing was born Oct. 26, 1925, near Doon, Iowa, daughter of Peter and Gertrude (Zipp) Roozing. She was raised near Doon and attended country school.
On Nov. 29, 1950, she married John Hulst Jr. They lived in Hospers, Iowa, and Bellflower, California. In 1963, they returned to northwest Iowa and made their home in Hull. She worked as a cook and custodian at Boyden Hull Public Schools. Her husband passed away Oct. 11, 1997.
Survivors include her daughter, Shannon (Dennis) Baack of Sheldon; a daughter-in-law, Norma Hulst of San Diego, California; six grandchildren; seven great-grandchildren; a sister-in-law, Pearl Roozing of Hull, and many nieces and nephews.
In addition to her parents and husband, she was preceded in death by her son, Harlan Hulst; a daughter, Sharla Wohlert, and three brothers, Stanley (Ruth) Roozing, Cornelius Roozing and Peter (Dorothy) Roozing.