Verna Garnmeister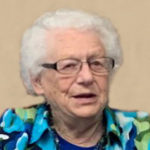 95
Luverne, Minnesota
October 12, 2019
Verna Garnmeister, 95, of Luverne, Minnesota, passed away Saturday, Oct. 12, 2019, at Mary Jane Brown Good Samaritan Society in Luverne.
Funeral service was Friday, Oct. 18, at St. John Lutheran Church, Luverne, with interment in Maplewood Cemetery, Luverne. 
Verna Mae Stange was born May 20, 1924, in Sioux County, Iowa, to Reinhold and Anna Marie (Bunge) Stange. She was raised on the family farm and attended school in Hull, Iowa, graduating in 1942. After graduation, she worked as a telephone operator in Hull. 
On Jan. 8, 1950, she married Rufus Garnmeister. The couple settled on a farm near Luverne. She worked at Blue Mound Inn near Luverne from 1964-1990. In 2001, the couple moved to Luverne. Her husband passed away April 25, 2015. 
Survivors include three daughters, Paula (John) Peterson of Aurora, Colorado, Mary (Claude) Vahle of Highland, California, and Ruth (Scott) Kannenberg of Sioux Falls, South Dakota; five grandchildren and seven great-grandchildren. 
She was preceded in death by her husband, parents, a brother, Paul Stange, and a sister, Marjorie Anderson.