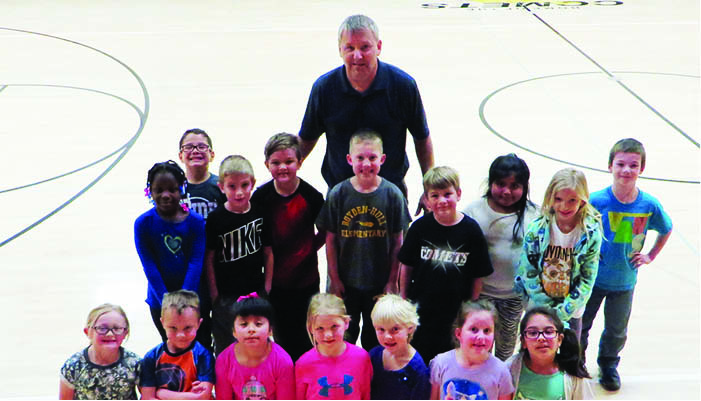 It's not easy to leave a job you love.
But after 33 years as a Boyden-Hull Elementary physical education teacher, Dean Hoogeveen is retiring.
"Last summer I decided this would be my last year. Even though I love teaching our youngest students, every year it was getting harder to keep up with the kindergarteners," he laughed. "Teaching P.E. is a high-energy job and I like to be doing stuff right along with them, not just sitting on the sidelines."
Although his job focused on physical fitness, the 59-year-old Lester, Iowa, native believed it included much more.
"When I have the kids play games and they're having fun, they don't realize how much physical fitness they're getting," he said. "They leave the gym with big smiles on their faces.
"I also think I have a way of helping kids to feel successful; by treating them fairly, announcing their names and praising them during class. If kids find success in school, they'll try harder. This is important to me."
As a coach, Hoogeveen also helped junior high and high school female athletes find success. He coached the varsity volleyball team, girls' basketball, softball and junior high girls' track.
He guided the volleyball team to two state tournament appearances and his basketball teams won the conference title three times. Two of those titles included the last year of the six-on-six game and the first year of five-on-five play.
"I always enjoyed coaching but volleyball was especially unique," Hoogeveen explained. "I like the game itself and there are so many offensive and defensive strategies. I was surprised that there were so many levels to the game. We had a lot of success in Boyden-Hull volleyball and we had a lot of fun."
Hoogeveen and his wife, Judy, moved to Hull in 1984, after he taught and coached for one year at Westfield followed by three years at Remsen St. Mary's.
The couple raised three children — Angie, Ryan and Jill — who graduated from Boyden-Hull.
"I interviewed for the high school P.E. and head football coaching job and got hired to teach junior high and elementary P.E. and coach volleyball and girls' basketball," he recalled with a smile. "I met with Craig Anderson, Ray Johnson and Denny Wright. When they called me back they told me I got the job, just not the job I'd applied for."
His job changed later to include teaching fifth and sixth grade keyboarding for a few years but most of his career has been as the elementary P.E. teacher.
And for three decades Boyden-Hull was a good fit.
"After I came to Boyden-Hull I didn't have any desire to leave or even look at other schools," Hoogeveen stated. "I like the school and I enjoy elementary P.E. The kids keep you young. We have a great teaching staff — everyone works together and really helps each other out and we have the support of the administration. The two athletic directors I worked with, Denny Wright and Jeff Meyn, were great. They don't get enough credit for all that they do."
But next year will be different. Hoogeveen wants to spend more time outdoors doing things he loves, like fishing, pheasant hunting and golfing. He also plans to spend more time with his grandchildren.
However, he knows he will miss P.E. classes with the kids.
"They amaze me and make me laugh every day," he said. "I've seen funny things, like the kickball shot that went through the basketball net; and amazing things, like the elementary student who did an 8-1/2-foot standing long jump or the girl who could do 14 pull ups.
"Kids change so much, physically, between kindergarten and sixth grade. Both boys and girls that age love P.E. and they get so pumped up coming into the gym. My job has been a lot of fun."