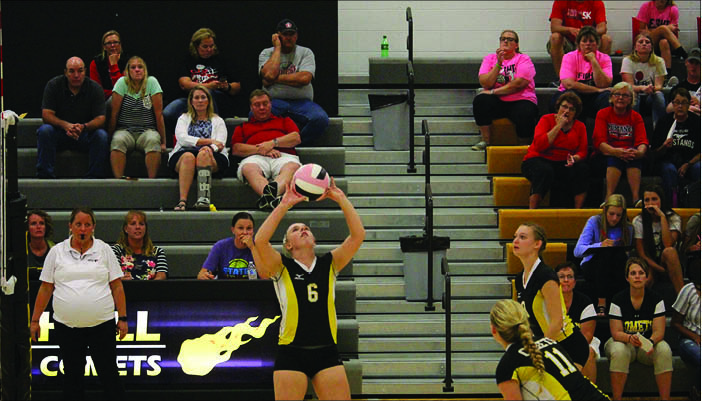 HULL-Boyden-Hull had its fair share of lumps and bumps during its home volleyball tournament Thursday, Aug. 31, but, in the end, the Comets were able to get the points when it mattered most to win all three of their matches.
Rock Valley8-190
Boyden-Hull21-212
Boyden-Hull took on rival Rock Valley to begin the night and had a strong start by taking game one 21-8. The Comets may have gotten a little over-confident in game two, allowing the Rockets to claim a 4-point lead. But Boyden-Hull inched back to take a 17-15 advantage and held on for a 21-19 victory and 2-0 sweep in the match.
"I thought we came out really, really strong. The second game we got down by 4 right away and had to dig ourselves out. We were able to dig ourselves out around the 15-point mark and we were able to finish," said Comets' coach Mel Hofmeyer. "I thought our energy level was a bit low (in game two). We weren't talking and the movement of our feet was not quite there."
Hofmeyer credited her team for hanging on to win.
"We just weren't quite ready to play in that second game. That sometimes happens in volleyball, but we were able to come back," she said.
Kaitlyn Van Der Zwaag led Boyden-Hull with eight kills. Christina Boogerd and Brooke Zylstra had five kills each. Sara Koster rounded out the top attackers with three kills. Audrey Kreun dished out 20 assists. Defensively, Brianna Kleinwolterink and Erika Pottebaum got in on seven digs each, Boogerd had six, Zylstra had five and Van Der Zwaag had four. Boogerd also got in on six blocks, Kreun had three and Zylstra had three.
On the service line, Boogerd went a perfect 18-for-18 with three aces. Pottebaum went 7-for-7 with one ace.
Siouxland Christian10-60
Boyden-Hull21-212
The second match of the evening was against Siouxland Christian and the Comets swept the match 21-10, 21-6. Hofmeyer said she wanted her team to have a better focus in this match and felt the players responded to that challenge.
"We talked about what was the problem in the second game with Rock Valley and the girls realized it was our energy and our talk. That was really our focus going into the second match," Hofmeyer said. "I thought they did a very, very good job."
Boogerd led the offense with four kills, Van Der Zwaag had four, Zylstra had three and Pottebaum had three. Kreun dished out 13 assists. Defensively, Kleinwolterink got in on seven digs, Pottebaum had five and Zylstra had four.
On the service line, Zylstra went 10-for-11 with one ace. Pottebaum went 3-for-4 with one ace and Kleinwolterink went 5-for-6 with one ace.
George-Little Rock15-200
Boyden-Hull21-222
The final match of the night against George-Little Rock was for the championship. The Comets got off to another good start in game one with a 21-15 decision. Boyden-Hull got off to another fast start in game two, taking as much as a 15-9 lead, but George-Little Rock rallied back to tie the game a 20-20.
"We were leading that set 15-9 and they (George-Little Rock) went on a 5-point run. We were the ones making mistakes," Hofmeyer noted. "We were playing too tight. We had hitting errors and we were just not getting the pass to our setter well enough to get a good strong attack. They in turn got the ball and were able to swing back at us. We weren't playing to win, we were playing not to lose."
Luckily the Comets were able to get a side-out and take the 22-20 victory for the match sweep.
"They were able to finish and I was very, very glad. It was a little tense in the end, but the girls pulled it out," Hofmeyer said.
Boogerd was the offensive leader in this match with five kills. Zylstra and Van Der Zwaag had four kills each. Kreun dished out 11 assists. Defensively, Boogerd and Pottebaum had seven digs each. Kreun and Kleinwolterink had four digs each. Boogerd, Kreun and Zylstra each got in on a block.
On the service line, Kleinwolterink went 9-for-11 with three aces. Van Der Zwaag went 8-for-9 with one ace and Kreun went a perfect 12-for-12 with no aces.
The Comets are now 8-3 in the young season and will play one final tournament before Siouxland Conference play at the Sioux County tournament in Orange City, hosted by MOC-Floyd Valley Saturday, Sept. 9.
"I am very excited with how they are playing. They played together and that was something they mentioned in the locker room. They felt like they were playing very much as a team and that's ultimately the goal," Hofmeyer said.