Wilma Schelling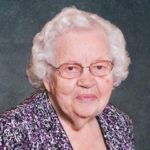 88
Orange City, Iowa
January 24, 2019
Wilma Schelling, 88, of Orange City, Iowa, passed away Thursday, Jan. 24, 2019, at Pleasant Acres Care Center, Hull, Iowa.
Funeral services were Tuesday, Jan. 29, at Netherlands Reformed Church, Sioux Center, Iowa, with interment Memory Gardens Cemetery, Sioux Center.
Wilmina Henrietta Vander Schaaf was born June 2, 1930, near Sioux Center to John and Harriet (Vermeer) Vander Schaaf.  She grew up and attended country school near Sioux Center and graduated from Sioux Center High School in 1948.
On Jan. 11, 1950, she married Gilbert Schelling.  They made their home on a farm near Hudson, South Dakota, before moving to a farm near Sioux Center.
Survivors include her husband; her children, Shirley (Abe) Den Hoed of Hull, Robert (Sharon) Schelling of Sioux Center, Harlan (Jane) Schelling of Orange City, Lois (Enno) Haan of Clarks Grove, Minnesota, Marvin (Kathy) Schelling of Orange City and Karen (Bud) Kuiken of Hartford, South Dakota; 25 grandchildren; 55 great-grandchildren; siblings, Milton (Joan) Vander Schaaf of Hardwick, Minnesota, Herlon (Joan) Vander Schaaf of Sioux Center, Henrietta Vander Broek of Orange City, June (Harold) Driesen of Hull, Audrey (Ken) Van Grouw of Remsen, Iowa, Delbert Vander Schaaf of Orange City, Roger (Charlotte) Vander Schaaf of Lake Wilson, Minnesota, Helen (Don) Statema of Hospers, Iowa, and Arlys Zomermaand of Sioux Center; sisters-in-law, Betty and Sharon Vander Schaaf of Sioux Center.
She was preceded in death by her parents; brothers, Jim and Wayne Vander Schaaf; brothers-in-law, Bud Vander Broek and Ed Zomermaand; and sister-in-law, Elda Vander Schaaf.