Rosalynd Deatsch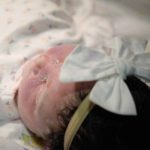 Boyden, Iowa
November 15, 2019
Rosalynd Anne Deatsch was born and passed away Friday, Nov. 15, 2019. 
Memorial service was Saturday, Nov. 23, at Middleburg Free Grace Reformed Church, Middleburg, Iowa, with private family interment in Capel Township Cemetery near Middleburg. 
Survivors include her parents, Emma Wells and Nathan Deatsch of Boyden, Iowa; her grandparents, Gina and Beau Wells of Boyden and Vicki and Jim Childs of Iowa City, Iowa; great-grandparents, Leon and Fran Mouw of Boyden and Steve Wells of Dighton, Kansas; her great-great-grandmother, aunts and uncles. 
She was preceded in death by her great-grandparents, Sue Wells and Patricia Deatsch; and grandmother, Florence Patten.