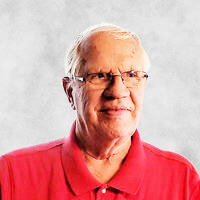 79
Hull, Iowa
October 14, 2020
Robert Oostra, 79, of Hull, Iowa, passed away Wednesday, Oct. 14, 2020, at Avera Hospital in Sioux Falls, South Dakota.
Funeral services were Saturday, Oct. 17, at Carmel Reformed Church, Carmel, Iowa, with interment in the church cemetery.
Robert Lee Oostra was born May 13, 1941, in Rock Valley, Iowa, to John and Kate (Van Surksum) Oostra. He grew up in the Rock Valley area and attended school through the eighth grade.
On Sept. 22, 1961, he married Muriel Sandbulte. The couple made their home in Hull where he worked for several years at Hi-Way Body shop in Hull and later owned and operated it until his retirement. He then worked part-time at Boyden-Hull High School as a janitor. His wife passed away in January 2019.
Survivors include five children, Nelson (Wanda) Oostra of Hull, Orlin (Kristi) Oostra of Hull, LaBeth (Mark) Hoekstra of Hull, Ryan Oostra of Boyden, Iowa, and John (Shantel) Oostra of Sheldon, Iowa; 18 grandchildren; 13 great-grandchildren; siblings, Bill Oostra of Winneconne, Wisconson, Andrew (Wilmina "Tootie") Oostra of Rock Valley and Teresa Oostra of Rock Valley; in-laws, Johanna (the Rev. Arnold) Punt of Sioux Center, Iowa, Lois Van Maanen of Rock Valley, Norma (John) Boogerd of Hull, Retta Van Kley of Rock Valley, Carol Van Voorst of Hull; sisters-in-law, Leona Sandbulte of Luverne, Minnesota, Florence Sandbulte of Rock Valley, Betty Sandbulte of Sioux Center, Iowa, and several nieces and nephews.
He was preceded in death by his wife; his parents; two grandsons; brother, Andrew Oostra; brothers and sisters-in-law, Rich (Geraldine) Oostra, Ralph (Cynthia, Henrietta) Oostra, John (Liz) Oostra, Gerald (Gert) Oostra, Marinus (Alice) Oostra; sisters and brothers-in-law, Berdina (Gerrit) Van Maanen, Mary (Ray) Grooters and Ruth (Gerrit) Van Engen, and sister-in-law, Lois Oostra as well as several members of the Sandbulte family.