Phyllis Vanden Brink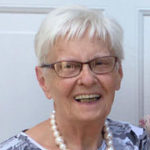 79
Boyden, Iowa
November 23, 2019
Phyllis Vanden Brink, 79, of Boyden, Iowa, died Saturday, Nov. 23, 2019, at her home. 
Funeral services were Tuesday, Nov. 26, at Tabernacle Baptist Church, George, Iowa, 
Phyllis Ann De Berg was born March 24, 1940, near George to Helmer and Helen (Kruger) De Berg. She graduated from Little Rock High School in 1958 and continued her education by attending training on teletyping in Omaha, Nebraska. 
On Dec. 9, 1961, she married Marvan Vanden Brink. They lived many places such as Colorado and Killeen, Texas, where she accompanied Marv to his Army basic training. They lived out their married life in Boyden. She worked several jobs including at Boyden café, Boyden egg plant, Tri-State Mutual Insurance and delivering newspapers for the Index-Reporter. She also owned and operated Van's Lunch Wagon with Marv, serving at auctions over 34 years and at the Boyden ballpark 20 summers. She also catered weddings, graduations, celebrations and local events. Survivors include five children, Alan (Shanda) Vanden Brink of Boyden, Tim (Rosemary) Vanden Brink of George, Roger (Deborah) Vanden Brink of Sanborn, Iowa, Elon Vanden Brink of Emerald Isle, North Carolina, and Eldon (Anita) Vanden Brink of Hull, Iowa; 17 grandchildren; 20 great-grandchildren; two sisters, Ora Fischer of George and Joanne (Louis) Vust of Little Rock, Iowa; sisters-in-law, Francis De Berg Harms of Sheldon, Iowa, and Donita De Berg of Sibley, Iowa; and many nieces and nephews. 
She was preceded in death by her husband; her parents; four brothers, Johnnie, Leo, Alvin and Jim De Berg; and two sisters, Vera Mulder and Arlene Arends.