Martha Van Surksum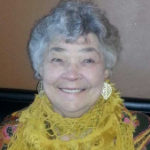 82
Hull, Iowa
October 25, 2018
Martha Van Surksum, 82, of Hull, Iowa, passed away Thursday, Oct. 25, 2018, at Royale Meadows Care Center, Sioux Center.
Memorial service was Monday, Oct. 29, at Doon United Reformed Church with interment in Hope Cemetery, Hull.
Martha Jane Bliek was born on Feb. 19, 1936, in Sacramento, California, the daughter of William and Martha (De Jager) Bliek. She was raised mostly in Iowa, where she went to school in Hudson.
On Dec. 2, 1955, she married John Van Surksum. They started their family in Iowa. In 1968, they moved to a farm in Minnesota and returned to Iowa in 1973. She had many occupations in the course of her lifetime. Her husband passed away April 26, 2010. In 2014, she became a resident of Royale Meadows.
Survivors include her three children, Edwin Van Surksum of Los Angeles, California Douglas (Joleen) Van Surksum of Hull and Jana Van Surksum of Trabuco, California; two grandchildren; three great-grandchildren and three siblings, Roy Bliek, Betty Darnell and William Bliek.
She was preceded in death by her husband and one sister, Bonnie Purcell.