Donna Gingras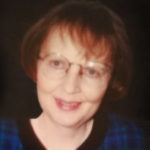 74
Rock Rapids, Iowa
July 16, 2019
Donna Mae Gingras, 74, of Rock Rapids, Iowa, passed away Tuesday, July 16, 2019, at Sanford Luverne Hospice Cottage in Luverne Minnesota.
Memorial talk was Tuesday, July 23, at Kingdom Hall of Jehovah's Witnesses, Luverne. 
Donna Mae Reyelts was born Nov. 4, 1944, in Sheldon, Iowa, to William and Hendrika (Scholten) Reyelts. She grew up and attended country school near Hull, Iowa. She graduated from Boyden-Hull High School in 1963 and from Personnel Training Institute in Omaha, Nebraska, Jan. 30, 1964. She then took a secretarial position with the U.S. Navy Department in the Washington, D.C., area. 
On Nov. 16, 1968, she married Joseph Gingras. They lived in Arlington, Virginia, before moving to Hull in 1986 and to Rock Rapids in 1988.
Survivors include her husband; three daughters, Crissy (Kelly) Cowell of Kanaranzi, Minnesota, Kathy (Brooks) Duehn of Luverne and Michele (Ben) Dressen of Magnolia, Minnesota; nine grandchildren; brother, Loren (Mary Ellen) Reyelts of Hull Iowa; three sisters, Glenda Bryson of Schleswig, Iowa, Lola Hindbjorgen of Hendricks, Minnesota, and Marcia (Dennis) Orcuitt of Columbia City, Indiana; brother-in-Law, Kenneth Stueven of George, Iowa; and numerous nieces and nephews. 
She was preceded in death by her parents; daughter, Cindy Gingras; sister, Karen Stueven, and two brothers-in-law, Paul Hindbjorgen and Charlie Bryson.