Arlene Oolman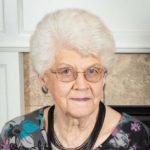 91
Orange City, Iowa
November 29, 2019
Arlene Oolman, 91, of Orange City, Iowa, passed away Friday, Nov. 29, 2019, at Prairie Ridge Care Center, Orange City.
Funeral service was Tuesday, Dec. 3, at First Reformed Church, Orange City, with interment in West Lawn Cemetery, Orange City.  
Arlene Yvonne Wielenga was born March 16, 1928, in Orange City, daughter of Peter and Roelvina "Ruth" (Cleveringa) Wielenga.  She grew up in Orange City where she attended Christian grade school and graduated from Orange City High School.
On May 7, 1947, she married Orville Oolman. They first made their home in Orange City, before moving to the Oolman farm west of town. She worked at Gary's Market, DaMar Implement, and K-Products, all in Orange City. In 1993, they retired from farming and returned to Orange City. Her husband passed away Nov. 1, 2001. In 2009, she moved to Landsmeer Ridge Retirement Community in Orange City. In October 2019, she became a resident of Pleasant Acres Care Center in Hull, Iowa, and in November she transferred to Prairie Ridge Care Center.
Survivors include four children, Larry (Glenda) Oolman of Hull, Bonita Roos of North Liberty, Iowa, Pamela (Ronald) Smith of Hudsonville, Michigan, and Randall (Brenda) Oolman of Orange City; 12 grandchildren; eight great-grandchildren; a brother, Wilmar (Beverly) Wielenga of Orange City, and a sister-in-law, Sylvia Wielenga of Denver, Colorado.
In addition to her husband, she was preceded in death by a grandson and two brothers, Raymond (Joyce) Wielenga and Peter Wielenga Jr.