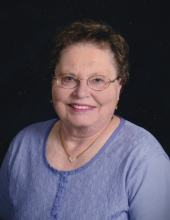 83
Orange City, Iowa
November 4, 2021
Arlene De Jong, 83, of Orange City, Iowa, passed away Thursday, Nov. 4, 2021, at Whispering Heights in Rock Valley, Iowa.
Memorial service was Saturday, Nov. 13, at First Christian Reformed Church, Orange City, with interment in West Lawn Cemetery, Orange City.
Arlene Mae Harman was born June 18, 1938, near Boyden, Iowa, daughter of Howard and Wilhelmina (Van Roekel) Harman. She grew up near Boyden and attended Boyden Public School. Following graduation from high school, she started working at The Capital newspaper in Orange City.
On July 10, 1959, she married Raymond De Jong. They made their home in Orange City where she was a homemaker and did bookkeeping for Ray's business, De Jong Excavating. Later in life, she worked as the secretary at First Christian Reformed Church in Orange City. Her husband passed away Dec. 31, 2006.
Survivors include four children, Delmar (Val) De Jong of Alton, Iowa, Marlene (Galen) Van Maanen of Rock Valley, Edwin (Susan) De Jong of Orange City and Wayne (Becky) De Jong of Hull, Iowa; 10 grandchildren; five great-grandchildren; a brother-in-law, Wilbur (JoAnn) De Jong of Orange City, and five sisters-in-law, Rose (Norman) Te Grotenhuis, Priscilla (Otto) Huizenga, and Delores De Jong, all of Orange City, Arlene Menninga of Laughlin, Nevada, and Sue De Jong of Woodville, Wisconsin.
In addition to her parents and husband, she was preceded in death by her brother, Lester (Rosemary) Harman; six brothers-in-law, Peter (Lois) De Jong, Sam (Nellie) De Jong, Julius De Jong, Marvin De Jong, Marion De Jong, and Howard Menninga, and a sister-in-law, Rena (Hans) Kloosterman.