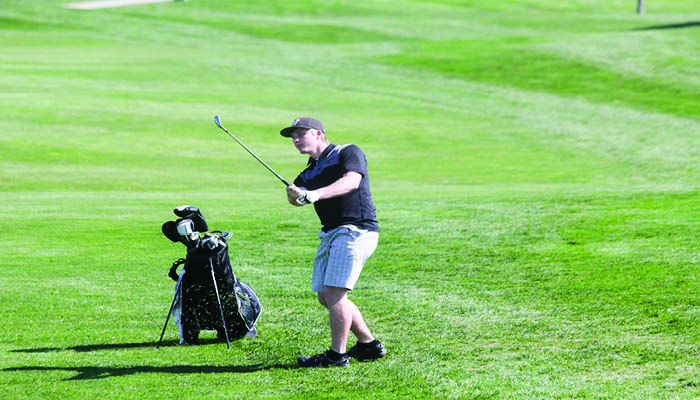 LEMARS-The Western Christian boys' golf team was very disappointed in its performance at the Lakes Conference meet Monday, May 8. The Wolfpack finished third with a score of 337 at the Willow Creek Golf Course in LeMars.
Western Christian's top golfers were Caleb Harmsen and Colyn Oostenink. Harmsen and Oostenink each shot 83s in the two nine-hole rounds. Brennan Kooi finished with an 85, while teammate Carter Broek shot an 86. Cade Broek and Caleb Dokter each finished with a 90.
"We were very disappointed with our results today," stated Western Christian coach Jim Eekhoff. "Cade had a really bad back nine. It was very warm and very windy and the course played tough, but we should have been in the low 320s at worst. Caleb Harmsen probably had the best day shooting an 83 with two out-of-bounds."
Eekhoff hopes things will turn around at sectionals Friday.
"We need to have a much better day this Friday at sectionals if we hope to qualify for districts," he concluded.
Lakes Conference boys' tournament golf at Willow Creek Golf Course
Team results:1. Spencer 310, 2. Estherville Lincoln-Central 334, 3. Western Christian 337, 4. Storm Lake 356, 5. Spirit Lake 356, 6. LeMars 365, 7.Emmetsburg- 366.
Western Christian cards:Caleb Harmsen 83, Colyn Oostenink 83, Brennan Kooi 85, Carter Broek 86, Cade Broek 90, Caleb Dokter 90.
Western takes second place in final Lakes Conference meet
ESTHERVILLE-It was the final regular season Lakes Conference boys' golf meet of 2017 for Western Christian Tuesday, May 9, at Estherville Golf Course. The Wolfpack finished in second place with Estherville-Lincoln Central winning the meet title, resulting in the Midgets finishing second in the Lakes Conference regular-season race and Western Christian finishing third in the conference standings.
The Wolfpack shot 158, two strokes short of Estherville-Lincoln Central. Leading the way for Western Christian was second-place medalist Cade Broek who shot a 37 and Caleb Harmsen with a 39. Brennan Kooi came in with a nine-hole round of 40 with Colyn Oostenink coming in with a 42.
"We shot a very good 158 today. Cade rebounded from probably his worst day yesterday (Monday, May 8 at a tournament in LeMars), to a very good round today," said Wolfpack coach Jim Eekhoff. "We also had very good rounds from Caleb Harmsen and Brennan Kooi."
Lakes Conference boys' golf triangular at Estherville Golf Course
Team results:1. Estherville-Lincoln Central 156, 2. Western Christian 158, 3. Emmetsburg 176
Western Christian cards counted toward the team score:Cade Broek 37, Caleb Harmsen 39, Brennan Kooi 40, Colyn Oostenink 42
Western Christian cards not counted toward the team score:Caleb Dokter 43, Carter Broek 45
Wolfpack advance the team to districts
SIOUX CENTER-The Western Christian boys' golf team may have finished in first place at the Class 2A sectional meet at The Ridge Golf Club in Sioux Center Friday, but the Wolfpack know they will need to golf a bit better at the district meet Friday, May 19, in order to reach the state tournament.
Western Christian finished the day with 313 strokes as Hinton was the second-place team with 317 strokes. The other two teams that advanced to districts were third-place West Lyon with 339 team strokes and Alta-Aurelia with 367 team strokes.
"We golfed well, but it could have been a little better," said Wolfpack coach Jim Eekhoff.
One surprise for the day was Western Christian's leading golfer. Freshman Caleb Dokter has been out for much of the season due to a leg injury suffered while also playing soccer. But that injury healed and the Sioux Center native shot an 18-hole round of 75.
"That was pretty impressive for a freshman. He's a good golfer," Eekhoff said. "He plays both soccer and golf and he broke his foot early in soccer, so he missed a lot of the season. But he's a good player and he's from Sioux Center, so he's comfortable at The Ridge."
Eekhoff noted the rest of the team had ups and downs, but is happy his team lives to see another week.
"Coly had a good round. He was steady. Carter Broek didn't get off to a good start, but he was able to bear down and grind it out. Cade Broek had just a couple bad holes or he would have been really low," Eekhoff said. "Our district is pretty loaded, but it's golf. You are going to have good days and bad days."
Class 2A sectional golf at The Ridge Golf Club in Sioux Center
Team results:1. Western Christian 313, 2. Hinton 317, 3. West Lyon 339, 4. Alta-Aurelia 367, 5. Sioux Center 379, 6. Rock Valley 389, 7. Sibley-Ocheyedan 422, 8. Cherokee 458
Western Christian cards:Caleb Dokter 39-36, 75; Colyn Oostenink 38-38, 76; Cade Broek 41-39, 80; Carter Broek 41-41, 82; Caleb Harmsen 39-46, 85; Brennan Kooi 50-46; 96.