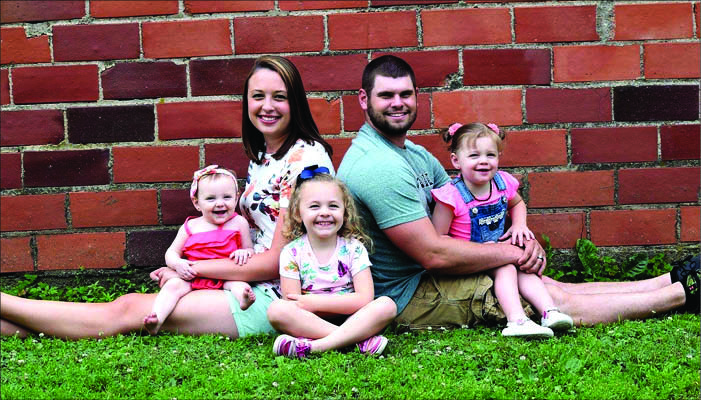 Allison Decker's doctors have described her cancer as one-in-a-billion.

The 22-year-old Hull resident has hurthle cell carcinoma, a rare type of thyroid cancer, which makes up less than 5 percent of thyroid cancer cases. On top of that number, hurthle cell is an aggressive cancer and usually attacks people in their mid-50s.

"Doctors in this area don't have any experience with hurthle, so my doctor in Sioux Falls works with a specialist at the Mayo Clinic in Rochester," explained Decker.

Decker is the granddaughter of Larry and Virginia Bylsma, Hull. She grew up in Orange City and graduated from Unity Christian High School in 2013.

She and her husband, Tyler, have three girls, Kennedy, 4, who attends Little Blessing Preschool, Blakelee, 2, and Kobie, 1.

Decker offers daycare in her home.

In May doctors discovered a golf-ball size tumor on Decker's thyroid. She'd been complaining of difficulty breathing and swallowing and was being treated for pneumonia. But when those symptoms didn't go away, her doctor took a closer look and found two tumors on her thyroid. They were growing inward and restricting her airway.

After two surgeries removed the tumors and her thyroid, Decker was told the cancer had spread to her lungs.

In August she received radioactive iodine therapy. Thyroid glands absorb nearly all the iodine in our bodies, so when radioactive iodine is taken into the body it concentrates in thyroid cells. The radiation can destroy the thyroid gland and any other thyroid cells (including cancer cells) that take up iodine, with little effect on the rest of the body.

A side effect of the treatment was that Decker's body gave off radiation for several days after therapy. She had to be isolated from everyone for 10 days.

Fortunately she didn't have to remain in the hospital that long, but stayed with family members in Worthington.

"But I was away from my husband and children for 10 days and that was hard," she said. "The good news is the treatment seems to have worked. I still have some residual tissue in my neck but we hope that with the medication I'm taking, the rest of the cancer cells will be killed. If that doesn't work, I'll be having more surgery in the future."

For the next five years she'll see a cancer doctor every six months with the goal of being labeled "cancer-free."

Being diagnosed with cancer was scary but not overwhelming, noted Decker.

"You just get through it by keeping a good attitude and having faith that God has a plan for all of us."

Because of her medical and travel expenses and lost days of work, friends of the couple organized a Tip Night at Orange City Pizza Ranch last week.

"It's been challenging because we really worked hard to be financially stable before the cancer," said Decker. "Now we're working hard to learn how to live differently. We really appreciate help from others."