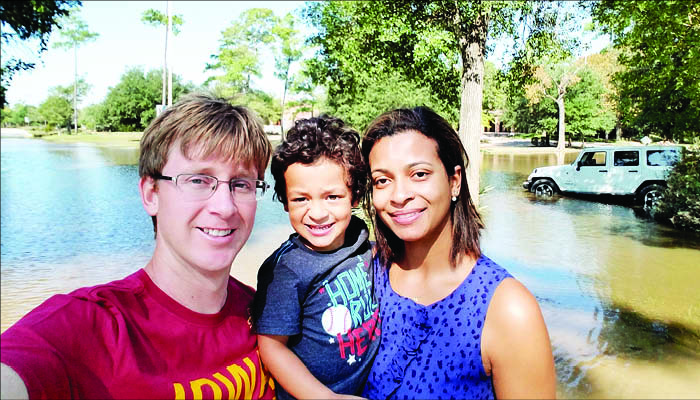 When Evan and Tamyres Visser bought a house in the Houston, Texas, area two years ago, they looked for a nice neighborhood, close to work and near a good school.
They didn't realize it then, but they also moved to an area of safety.

While Hurricane Harvey ravaged many parts of the Houston metro area for five days with record amounts of rainfall and flooding, their house remained dry and power stayed on.

The Vissers live in Spring, which is 10 miles north of downtown Houston. Evan is the son of Jay and Jeanne Visser, Hull, and graduated from Boyden-Hull in 2001.

"Our neighborhood drains well, we're not in a flood plain and we don't have any bayous near us," explained Evan. "We didn't think about these things when we bought the house but we're very thankful now."

His neighborhood received 30 inches of rain in four days. Rainfall in suburbs south of Houston reached 50 inches.

"No one guessed it would rain this much, but the north side of Houston was definitely better off," he added.

Hurricane Harvey made landfall Friday night, Aug. 25, as a Category 4 hurricane. By Saturday night, the Vissers were housebound. A few blocks from their neighborhood streets were flooded.

Monday morning, a family of three moved in. Friends of the Vissers, the family lived on the third floor of an apartment building which flooded. They decided to move out when they lost power and water.

"The first floor of their building was filled with 4 feet of water. Volunteers with boats rescued them from the building and took them to their car, which they'd parked on higher ground," explained Evan. "To get to their car they had to cross a street that was 8 feet under water. But then they could drive to our house. They'll stay with us until power comes back to their apartment.

"I wasn't worried about flooding in our neighborhood, but I was concerned about losing power," he added. "When Hurricane Ike came through here in 2008, our area didn't have power for two weeks."

Now the cleanup begins.

Evan and Tamyres spent last Saturday working in "mud-out" crews with members of their church.