The Rev. Trudy Peterson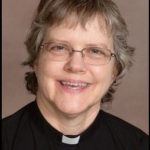 63
Titonka, Iowa
June 6, 2019
The Rev. Trudy A. Peterson, 63, of Titonka, Iowa, passed away Thursday, June 6, 2019, after a three-year struggle with ALS.
Graveside services were Wednesday, June 12, at Otter Creek Lutheran Cemetery, rural Highland, Wisconsin.
Trudy Maloney was born Dec.11, 1955, in Springfield, Illinois, the daughter of Robert and Frieda (Stach) Maloney. She attended school in Springfield, graduating from Lanphier High School in 1973. She attended Western Illinois University, Macomb, Illinois, graduated from Luther College, Decorah, Iowa, in 1973 and attended Wartburg Theological Seminary in Dubuque, Iowa. 
On Aug. 31, 1980, she married the Rev. Kim Peterson. They served a number of parishes in Illinois and Iowa including St. John Lutheran Church, Boyden, Iowa.
Survivors include her husband; two daughters, Kymberly (Edward) Pease of Boyden and Stephanie Peterson of Sanborn, Iowa; a brother, Tom (Kat) Maloney of Springfield; brother-in-law, Steve (Kathy) Peterson of Dodgeville, Wisconsin; nieces, nephew and other family and friends.
She was preceded in death by her parents and brothers, Terry and John Maloney.