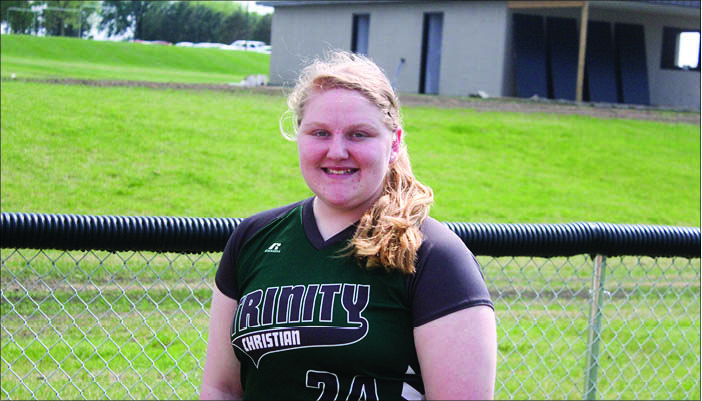 Trinity Christian0-0-0-0-0-X-X0
LeMars Gehlen Catholic9-1-2-0-X-X-X12
LEMARS-Pitching was a struggle early as the Trinity Christian softball team was defeated by LeMars Gehlen Catholic Monday, June 5, in LeMars.
"Since our main pitcher (Koralee Heynen) got hurt Friday night we knew that this week was going to be a little bit rough, so hopefully she can come back at the end of the week. The two girls we have pitching, we just need them to throw strikes," said Trinity Christian coach Kassandra Heynen. "We started Ashley (Van Egdom) on the mound. She did a good job for us last week. We gave her a chance to get through it (the first inning), but after three walks and three runs already scored, we switched to Shayna De Roon. She was able to find the (strike) zone a lot better with less walks, which is good. But at the same time we know that the teams are going to hit the ball and we need strikes thrown so our defense has an opportunity to make plays."
That said, Heynen noted the defense needs to play better.
"We need to play really sharp," said coach Heynen. "Bloopers, we have to be more aggressive in the field to try to get those. We really have to help out our pitchers as much as we can because we don't have a lot of speed. So teams are going to hit us."
The lone hit for the Tigers came from the bat of Shayna De Roon; she finished the game going 1-for-2.
"I thought offensively, we hit the ball well it just went to people," Heynen said. "We hit the ball hard, we had less strikeouts last night so that was good. "
Heynen said her pitching situation has been bleak before.
"We've battle through this kind of adversity," Heynen said. "Last summer, too, pitching was a struggle for us, and this summer with our ace out it is going to be a little bit of a struggle."
Staying upbeat is what Heynen said her team must do.
"We had a double play to end an inning and we had a fake throw that got a girl thrown out in a pickle. There's some fun situations, too, and that's what we're going to focus on," Heynen said. "See what each day brings, one day at a time and look past it because that was the way it was. Just stay positive and keep working hard to improve."
Van Egdom threw a one-third of an inning, giving up two hits, six runs of which all were earned, four walks and no strikeouts. De Roon threw two and one-third innings in relief with five hits, six runs of which five were earned, three walks and one strikeout.
Tigers focus on positives and getting better after three-inning loss
Carson Schubert I Writer
cschubert@ncppub.com
Trinity Christian0-0-0-X-X-X-X0
South O'Brien0-10-2-X-X-X-X12
PAULLINA-Despite a good first inning on defense and in the pitcher's circle, Trinity Christian's softball team fell in three innings to South O'Brien Tuesday, June 6 in Paullina.
Ashley Van Egdom was the starting pitcher for the Tigers and went one inning, allowed two hits, seven earned runs and three walks. Shayna De Roon also pitched an inning and allowed three hits, five runs of which three were earned and walked three.
"You just look for small steps of progress from game to game," said Trinity Christian coach Kassandra Heynen. "We were excited that in the first inning we did not allow any runs. Ashley Van Egdom started the game. She threw strikes and our defense made plays. We were hoping that could last a little longer but then, obviously, in the second they were able to score 10 runs."
At the plate, Sydney Brummel and Jayden Hoksbergen each had a hit in one at-bat. Alyssa Uittenbogaard swiped two bases.
"I was pleased with the at-bats that we had," coach Heynen said. "When each girl only gets to hit once, because you only play three innings, sometimes it's going to be difficult to score runs. In order to help our pitchers out a little bit we need to score runs early and we need to go up there with an attitude that I'm going to get on base. You shouldn't need one at-bat against a pitcher and then you get on base. We want to get on base right from the get-go."
Heynen said her team must look at the positives from each game.
"We can't accept or get used to only playing two-and-a-half innings. We have to battle, be positive, and the girls do a good job of that I think. I have to make sure that the coaches play an important role in that too, not letting them get down. Life is the same way, battle through adversity, you can have good times and bad times. That's what softball is about, teaching kids the important things of life. Each night we're going to keep working hard, try getting further into the game and just keep improving," Heynen said.
Tigers fall short in double-header with H-LP
Harris-Lake Park1-0-9-1-3-X-X14
Trinity Christian1-1-1-0-0-X-X3
HARRIS-The Trinity Christian softball team was swept in a double-header against War Eagle Conference opponent Harris-Lake Park Wednesday, June 7, in Harris.
The Tigers were the home team in the first game and they were able to get off to a good start, holding a 2-1 lead after the first two innings.
"The first two innings were really good for us," said Trinity Christian coach Kassandra Heynen. "Ashley (Van Egdom) threw strikes for us and we actually then had the lead."
But the third inning was when Trinity Christian ran into trouble, giving up nine runs. The Wolves then rallied for one in the fourth and three in the fifth to enforce the mercy rule."
"Then in the third inning, Ashley had quite a few walks and we had two errors on defense. Then they went on quite the run," Heynen said.
Van Egdom was in the pitcher's circle for the Tigers. She went four and one-third innings, allowed seven hits, 12 earned runs, 11 walks and five strikeouts. At the plate, she went 1-for-2. Claire Van Egdom came in relief; she pitched two-thirds of an inning and faced only two batters.
Hitting was strong as every girl but one had a hit. Alyssa Uittenbogaard was 1-for-3 with a run scored, an RBI and a stolen base. Caitlyn Van Engen went 1-for-2 with a run and an RBI. Abbie Kuiper had a double and an RBI. Jayden Hoksbergen had a hit and a run scored.
"I thought we did great offensively," Heynen said. "It was fun. We had base runners, the girls were seeing the ball, and putting the ball in play. They were able to work that over to the second game, which was exciting to see."
Trinity Christian2-0-2-0-0-1-05
Harris-Lake Park0-1-0-1-0-2-26
Trinity Christian lost a good game in the second half of the double-header.
"That was such a good game, we had a lot of offense, base runners, defense, Shayna (De Roon) threw great, limited her walks," Heynen said. "She did a really nice job for us and the defense made the plays they needed to do."
Trinity Christian had a 2-0 lead after the first inning. The Wolves tallied one run in the bottom of the second before the Tigers held a 4-1 lead with two in the top of the third. Harris-Lake Park scored once again with a single run in the bottom of the fourth, before the lead went to 5-2 as the Tigers scored another single run in the top of the sixth.
But the game got away in the bottom of the sixth and in the bottom of the seventh as the Wolves scored two runs in each of those frames to walk off with the win.
"In the sixth inning, however, we had two errors back-to-back by infielders. So you take away those two unearned runs then you win the ball game. We played six innings of really good ball, it was just that one inning," Heynen said
De Roon was in the pitcher's circle for the full game. She allowed four hits, six runs of which four were earned, walked three and struck out none. She also scored a run at the plate.
Other offensive numbers included Van Egdom going 3-for-4 with two RBIs at the plate. Van Engen went 2-for-4 with two doubles, a run scored and two RBIs. Shania Kooiker scored two runs, while Uittenbogaard was 1-for-4 with a run scored.
Busy week ends in a 13-0 defeat to Wolverines
Nathan Broek | Sports Editor
nbroek@ncppub.com
South O'Brien6-4-0-3-X-X-X13
Trinity Christian0-0-0-0-X-X-X0
HULL-It was a rough end to a busy week for the Trinity Christian softball team and the Tigers were pleased to see the weekend arrive following a 13-0 defeat to War Eagle Conference opponent South O'Brien Friday, June 9.
Trinity Christian had ace pitcher Koralee Heynen back in the circle after being out a week due to throwing her arm out attempting on an over-hand throw. Unfortunately, Heynen was unable to get into a groove and the Wolverines stormed for six runs in the first, four in the second and three in the fourth.
"We're really happy Koralee's back," said Tiger's coach Kassandra Heynen. "It was her first time back since last week Friday. She really hasn't done anything for a week. I've been trying to heal it (the arm) and at this point she's just underhand throwing, but we're hopeful to have her back and competing (at full strength) in ball games again and have more options available to us (in the pitcher's circle)."
Meanwhile, the Trinity Christian offense was held to no hits and only one walk in the contest, in addition to four strikeouts to force the 12-run mercy rule after four innings. Coach Heynen said her team's approach at the plate was not up to par.
"Offensively, I didn't feel like we were mentally ready, We weren't getting in to the batter's box with determination to get hits," she said. "Our at-bats were poor and we were swinging at balls. I just felt like, mentally, we weren't prepared to attack on the offensive side of things."
Coach Heynen noted the busy week may have had something to do with that. The Friday contest marked the fourth game of the week for the Tigers in what was originally scheduled as a five-game week. The game between Marcus-Meriden-Cleghorn/Remsen Union was postponed due to rain and lightning Thursday, June 8.
"This week was just busy for the girls with a lot of ups and downs and missing people. So I just felt Friday was based on the fact that we were just tired," coach Heynen said. "Next week we only have three games, so we're going to slow down a little bit and give our girls a couple of days to recover here."
The final stats for Koralee Heynen were three innings of work with six hits, 10 runs of which eight were earned, one walk and six strikeouts. Shayna De Roon threw the final inning in relief with no hits, three runs that were all earned, no walks and no strikeouts.