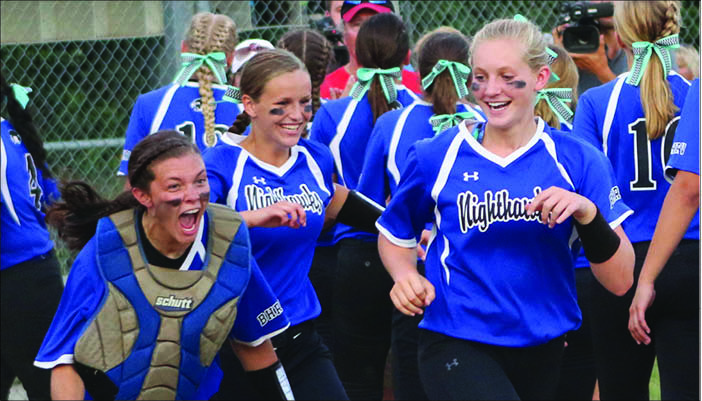 Spirit Lake1-1-0-0-0-0-02
Boyden-Hull/Rock Valley0-0-0-0-0-6-06
BOYDEN-The second-ranked Boyden-Hull/Rock Valley softball team found itself in an early 2-0 hole, but the Nighthawks never said die and used a six-run sixth inning rally to punch their third-straight state tournament ticket in a 6-2 win over 11th-ranked Spirit Lake in Class 3A Region 2 tournament final action Monday, July 10.
The Indians got single runs in the top of the first and in the top of the second, both on solo home runs.
"I think we came into this game a little nervous," said Nighthawks' pitcher Kaitlyn Van Der Zwaag.
But those nerves were quickly put to rest by senior leaders, catcher Alexis Mousel and third baseman Cassie Van Beek. Van Der Zwaag finished the game with seven innings of work, four hits, two runs that were both earned, five walks, one hit batter and nine strikeouts.
"It's my catcher, Alexis. She looks at me, smiles at me and tells me I have to have confidence. We're a great team," Van Der Zwaag said. "Yes and Cassie. She's always telling me to put a smile on my face along with Sammy (Blum the shortstop) and all the rest of the infielders. And I look out at Bri (Brianna) Brandt and she's always smiling too."
Coach Sara Friedrichsen said Van Der Zwaag continued to be herself throughout much of the game.
"She did what she had to do. I think I would like, and she would like, some pitches back. There were some mistakes in there and they (Spirit Lake) crushed the mistakes. As a good offensive-hitting team, and an offensive hitter, that's your mentality. You look for the pitcher's mistake," she said. "But she (Kaitlyn) adjusted and she battled and when they had runners on and runners in scoring position, she didn't let anything bother her. She trusted her defense and defensively we managed and hung in there."
The offense took its time to get going, but that was due to a good Indians' defense.
"It wasn't so exciting through the first few innings. We just couldn't get anything strung together. But the girls didn't get frustrated, they persevered," said Friedrichsen.
That perseverance finally paid off in the sixth. Brianna Kleinwolterink got on base with a walk and advanced to second base on a passed ball before scoring on a Spirit Lake error.
During the error, Taylor Richter reached first base before the Nighthawks loaded the bases on two-straight walks by Van Beek and Van Der Zwaag. Richter later came around to score on another Spirit Lake error, before two straight infield singles by Joanne Luevano and Morgan Halbur, along with a two-run single by pinch hitter Erika Pottebaum, sealed the rally.
"We executed the small ball. You saw a lot of that in the last inning with the hits that were bouncing high. We just believe in small ball and coming through in the end and it did in this game. We hit the ball at people and they were making mistakes," Blum said.
Final offensive numbers had Richter with one run, Van Beek with one run and Lizzy Blum with one run. Luevano had one hit, one run and one RBI. Halbur had one RBI. Kleinwolterink scored once. Pottebaum had a hit and two RBIs.
The Indians threatened with one walk in the top of the seventh, but Van Der Zwaag shut the door and Boyden-Hull/Rock Valley punched its third-consecutive ticket to Fort Dodge Tuesday, July 18 against seventh-seed Albia. The Nighthawks will be the second seed with Davenport Assumption as the No. 1 seed.
"For me, personally, I know our team can finish. I know everybody can do the job they're supposed to do and everybody did that at the end. We have some slow starts at the beginning of our games but I know we usually turn on the bats and get the hits that we want and finish like we want," Van Beek said.
Being able to "finish" has been a big factor this season for the Nighthawks and it came through once again in this game.
"I think it's time to turn on a new mindset that you have nothing to lose and you just have to go out there and play as hard as you can and do what you do — play Nighthawk softball — and that's what we did," Van Beek said.
Friedrichsen noted that "finish" mentality comes from the senior leaders.
"Finish is a word the seniors came up with and not necessarily because it's their last year but it's a mentality," the coach said. "We finish every practice, we finish every play, we finish every inning, we finish every game. I think that word sums this one up."
Overall, the Nighthawks are happy to be back in the state tournament.
"It means a lot, especially with this group of girls and my senior class teammates. It means a lot to go experience this again together and make memories there. It's one of our 'lasts'," Blum said.
For complete coverage of the state tournament, turn to our "Road to State" special section in the July 26 edition of theSioux County Index-Reporter.