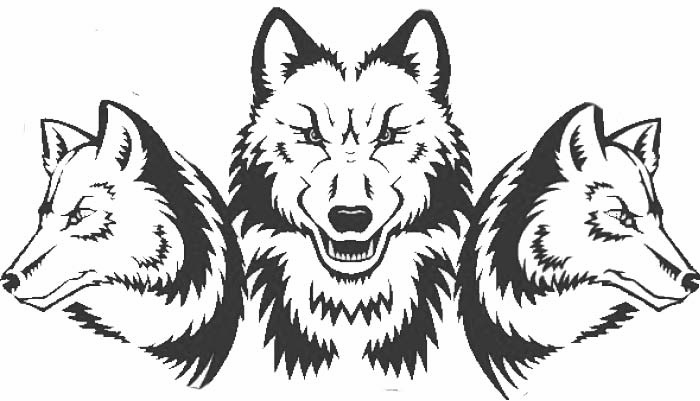 Keeping the tradition alive
The Western Christian athletic department is well known throughout northwest Iowa, and the state in general, for having quality sports programs year in and year out.
But this past school year proved to be one for the history books as the Wolfpack took home state titles in football, volleyball, girls' basketball and boys' basketball, had one state wrestling participant, sent various individual athletes to state track and one boy to state golf, and came up short of a state berth in girls' soccer. Athletic director and boys' basketball coach Bill Harmsen said this past year's success in sports was a good one, but should come as no surprise.
"Our kids have a tremendous work ethic. They get themselves up early to come to school to work out and lift weights. They give of their time to work hard at skills in the various sports they are involved in," Harmsen said. " But, overall, the parents' support is just outstanding. Our parents are willing to give of their time and of their resources for their kids to really work on their game and to get better. So it's just a tremendous support of parents and kids that just have an incredible work ethic. Plus there is a desire to get really good for every athlete."
The other key component that has rung true throughout last season and in years past is showing others the Christian faith through sports.
"We're all giving glory to God. We know that we are playing for One greater than us. That has rung true for every one of our (13 varsity) sports teams. Sometimes you don't make it to that last game of the year, but we're still glorifying God with our actions, who we are and how we portray ourselves," Harmsen said.
The year began with the volleyball and football programs both coming into the 2016 seasons with high expectations. The volleyball team was coming off a state championship and returning most of the players from that team, with the football program claiming a second-place finish behind Iowa City Regina in the Class 1A state championship game and also returning a lot of players from that team. Both teams ended up reaching those expectations as the Wolfpack repeated as Class 2A state volleyball champions and the Western Christian footballprogram took home its first state title in its nine-year history. At the same time, Whitney Minderhoud was an individual qualifier for state cross-country with the boys taking third place as a team at state cross-country.
Coach Travis Kooima said the recent success in the football program, and overall sports at Western Christian, sprang from the athletes' work in the weight room.
"I can speak for football in that the addition of our new weight room about nine years ago has had a huge impact on our program and it trickled down to the girls' sports as well as they continue to use it more and more each year," Kooima said. "We had some great supporters that made the weight room happen and our kids have bought into the process of a weight-training program, and it has paid off for them."
Assistant coach Mark Fenchel agreed.
"I think last year was a perfect storm when opportunities met with preparation. I think the summer of 2016 began with a new dedication to the weight room and summer workouts," Fenchel said. "I believe the athletes worked hard and could see the success on the horizon, which fueled their work efforts."
Fenchel added that the athletes on the football team were also easy to work with.
"I think the athletes we had last year were unselfish and coachable. I know it was a huge mindset the year before playing in the championship game against Regina (Iowa City Regina) and being able to compete with such a tradition gave us confidence the following year," Fenchel said.
Kooima also felt his teams had a strong work ethic. Kooima was also the head coach of the boys' track team that sent seven events to the state meet this past spring.
"I think that they were such tremendous competitors, not only in games but they compete hard in practices as well," Kooima said. "The senior group from last year did a great job leading by example and it helped the younger athletes see what it takes to play hard and compete at a high level."
The year transitioned into winter sports with basketball and wrestling. Both programs had various expectations with the boys coming off a state title in coach Jim Eekhoff's final year and the girls' program coming up one shot short of rival Unity Christian in the Class 2A state title game. For the wrestling program, Skylar Bonestroo was aiming to return to the state tournament. Once winter came to a close, Bonestroo made his second-straight state tournament berth and took the podium in fifth place in Class 1A. For the basketball teams, both the girls and boys won state titles in Class 2A to make Western Christian the first in recent Iowa high school history to win state titles in football, volleyball, girls' basketball and boys' basketball.
Harmsen gave credit to the talent level both basketball teams had in order to come away with titles.
"Both teams had tremendous basketball players. Both teams had players that totally gave of themselves for the team, totally gave of their time to work hard at their fundamentals, and they just love playing the game. I'd say those characteristics rang true through both the boys' and girls' basketball teams," Harmsen said.
As the spring sports season began, most of the preseason attention was given to the track and field teams after sending at least eight events to state for each squad the season before. In the end, the boys sent seven events while the girls sent 10 events to the state meet, with the 4×400-meter relay claiming a state title.
Fenchel, who is also the head girls' track coach, gave credit to good senior leadership.
"I believe the success for our girls' track team was having some great seniors to model the younger girls, namely Emily Van Ginkel and Erika Feenstra. I believe they did a lot of encouraging for the younger girls, not only to participate but to continue to work hard in practice and in school," Fenchel said. "I sometimes couldn't believe the intensity of the practices, how everyone pushed each other. I only wish we would have had a few more track meets to experiment with relays and give some girls in the individual events to hit their peaks."
In golf, the Western Christian boys ran into some tough luck once again, coming up a few strokes short of a team berth to state. That said, Carter Broek qualified as an individual and finished 41st overall. Then, after seeing an uptick in wins from a season ago, the Wolfpack girls' soccer team had its best season in recent years, advancing all the way to the regional tournament final in Class 1A before falling to Gilbert 3-2 in overtime.
Once summer started, Western Christian was without a varsity baseball program for the first time in a while due to low participation, with the Wolfpack softball team finishing up the year with a 12-14 record.
Harmsen feels the tradition of Western Christian athletics was still alive and well this past school year.
"When you look at the history of Western athletics, Western has been blessed with tremendous athletes over the last 30 to 40 years, dating back to the 1970s with track for our girls. That just developed into the 80s, 90s and the 2000s. So I wouldn't say our athletes have changed, I would say the dedication of playing at the high and elite level has been passed down from generation to generation," he said.
Harmsen does not see that tradition stopping any time soon.
"Western is always going to have athletes. We're always going to have kids that want to participate at a high level," Harmsen said. "It takes hard work to be able to compete at a high level. We just have dedicated parents and dedicated kids that want to do that as well. With hard work, and with discipline, these kids coming up want to have a part of that success as well."