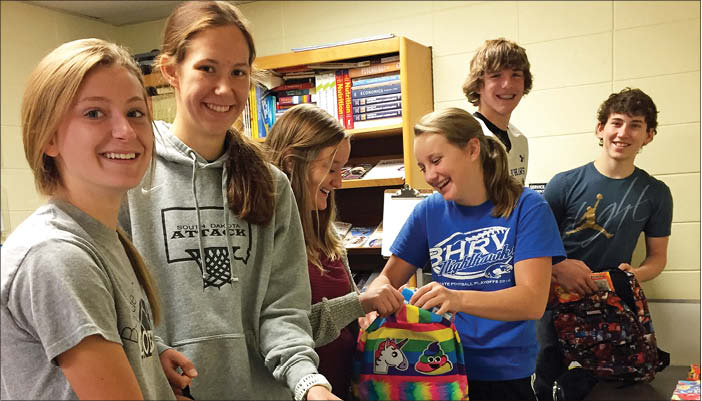 Last Friday, students in both Boyden-Hull School locations, Hull Christian and Western Christian wrapped up their Hull Helping Hull campaign to collect donations for the Hull-Daisetta, Texas, school district.
The Texas town of Hull is located approximately 50 miles northeast of Houston and the district's elementary school was flooded during Hurricane Harvey. While the Hull-Daisetta district found a temporary building to use while their school is being remodeled, they had few supplies for the classrooms.
But help is on the way.
The four schools, along with the City of Hull and Hull Chamber of Commerce, worked together to collect supplies and money for the Texas school district.
"This whole project has just been great for our schools and the community," stated Hull Christian principal Randy Ten Pas. "It really gives us perspective. We can get wrapped up in our own world, but helping others reminds us how fortunate we are.
"I was shocked to learn that 100 percent of students in the Hull-Daisetta district qualify for free and reduced lunches," said Ten Pas. "That's an unbelievable statistic. They need help and it's wonderful to see our community coming together to offer that help."
Students in Hull Christian and Boyden-Hull Elementary gathered items for their same grade levels in Hull-Daisetta.
High school students in Boyden-Hull and Western collected supplies for the Hull-Daisetta Backpack Buddies program, which sends a backpack of food home with students on Fridays. The Houston Food Pantry had supported the program, but that organization was damaged in the flood.
The Boyden-Hull Student Council purchased 63 backpacks and student donations filled them with food for the Backpack Buddies program.
"I was very excited about the Hull Helping Hull opportunity," said Boyden-Hull freshman Gabi Luevano. "It's been a lot of fun and if some calamity happened to our town, we hope that others would help us."
Last Friday, Boyden-Hull principal Dan Pottebaum wasn't sure how many items the community was donating for Hull, Texas, but he was very pleased with the whole project.
"In addition to aiding another school district, our goal was to teach intangibles, such as citizenship and helping others, to the students," he explained. "And it was also exciting to see how our schools and community came together. I'm very happy with what our students are learning. We are being the hands and feet of God."