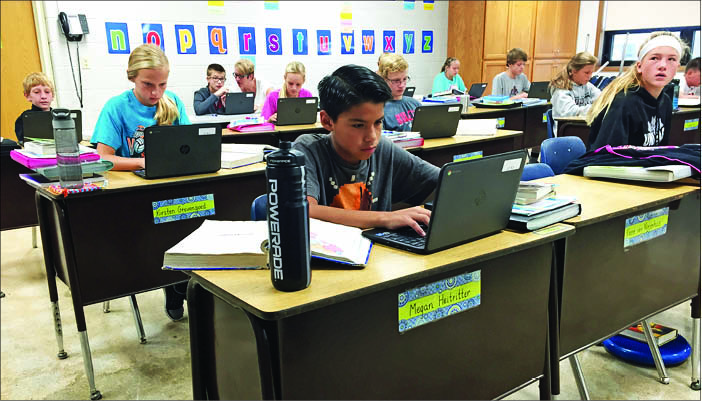 Hull Christian School started the year on a positive note, with enrollment numbers higher than they've been in more than 20 years.
The school has 201 students, including preschool, from 109 families. The last time enrollment reached 200 was in 1994. Enrollment in kindergarten through eighth grade is 165, which is the highest number since 1997.
Enrollment at the school has increased in nine out of the last 10 years.
"We can only praise God for his faithfulness to our school," stated principal Randy Ten Pas. "I think the enrollment increase is a reflection of the quality of education at Hull Christian. We're seeing families from outside Hull who are coming to the school. I'm thankful for our wonderful teachers, school board and commitment from our parents."
Ten Pas is also excited about a new math curriculum in the school.
"Last year we spent a lot of time looking at different math curriculums and we purchased a series called 'Go Math'," he explained. "It's used by several local public and Christian schools and those schools have seen their test scores go up."
"Math is changing a lot," he added. "What used to be taught in sixth grade, kids might now learn in fourth grade, and the way math is taught is also changing."
The school also purchased an online math practice program which students can use at school and at home.
Students in grades seven and eight are learning with the use of Chromebooks, a laptop running Chrome OS as its operating system. The Chromebook was designed to be used primarily while connected to the internet and does not have a hard drive, with most applications and data utilizing Cloud technology.
"We purchased 14 more Chromebooks for our upper grades this year," said Ten Pas. "History, math, science, bible and music classes use Google Classroom, so assignments can be given and submitted electronically. The Chromebooks are stored on a cart, which can go with the students to all their classrooms."
The school is considering adding Chromebooks for sixth grade next year and plans to purchase iPads next summer for the lower grades.
"The Chromebook seems to meet our needs better in the upper grades," added the principal. "It has a longer battery life, boots up quicker and is less expensive than a computer."
Hull Christian School formed a School Improvement Team last year and spent three days in the spring going through an accreditation process with Christian Schools International. Christian Schools International created a School Improvement Plan for the school, including goals for the next five years.
"The plan is really exciting for us," stated Ten Pas. "We want to keep improving our school."