Hilda Uilk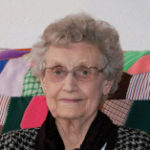 95
Jasper, Minnesota
October 14, 2019
Hila Uilk, 95, of Jasper, Minnesota, passed away Monday, Oct. 14, 2019, at Good Samaritan Communities of Pipestone, Minnesota.
Hilda Adele Winter was born Dec. 7, 1923, in Oliver, South Dakota, to Herman and Margaret (Heinsohn) Winter. In 1930, the family relocated to a farm near Boyden, Iowa, where she attended parochial school. 
On Jan. 9, 1947, she married Herman Uilk. During their first three years of marriage, the couple farmed southwest of Jasper, Minnesota. The following 10 years were spent on a farm in Pipestone before purchasing a farm near Jasper. In November 1985, they retired and moved to Pipestone. Her husband passed away June 30, 1990. In November 2017 she moved to Sunrise Village in Jasper. Survivors include five children, Leon (Diana) of Pipestone, Marlys (Dwight) Rafferty of The Villages, Florida, Joyce (Chuck) Hammer of Pipestone, Wayne (Becky) of Jasper and Darla (Bill) Morton of Brighton, Colorado; 13 grandchildren; 31 great-grandchildren and four siblings, Alvin Winter of Whitesboro, Texas, Reuben Winter of Sheldon, Iowa, Luella Loges of Boyden and Norven Winter of Boyden. 
She was preceded in death by her husband; three great-grandsons; her parents; sisters, Louise Uilk, Elsie Fick and Meta Fick. and brothers, August and Gerhardt.