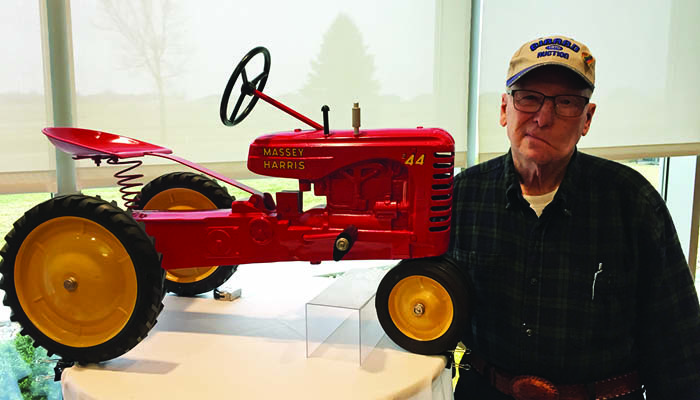 For nearly 15 years, Marv Van't Hul has been passionately collecting toy tractors, wagons, construction equipment and more until his collection numbered well over 2,000 pieces.
Last weekend, that number was cut in half with a two-day farm toy auction in Sioux Center.
The 74-year-old Hull resident knew it was time to downsize. "My display shelves were full and I had reached the point of wanting to take care of this collection before my kids had to," he said.
Girard Auction and Land Brokers from Wakonda, South Dakota, arranged the sale. Two people from that business spent four days at the Van't Hul home organizing, photographing and boxing up nearly 1,300 pieces for the auction.
"They're very good at what they do. I've been at many of their auctions," said Van't Hul. "I had to schedule this auction a year ago because they are in such demand."
Preparing for the sale, Van't Hul sorted through his toys, which include brands like Massey-Harris/Ferguson, CAT, Construction, Reuhl, International, John Deere and Tru-Scale.
A rare restored original Massey-Harris 44 Pedal tractor is one of his favorites. Van't Hul and his wife, Myrna, drove to northern Minnesota to buy the piece. "It was made in the 1950s and is in really good shape. It's the first one that Girard's has ever sold," he stated. "I kind of hate to part with it but I've reached a point in my life when I know things have to go."
He's also keeping his eye on an International Harvester Hydro 70 tractor with a full custom Westendorf loader. A high school student from Orange City built the brass loader.
"When we added the loader to the tractor, it became a one-of-a-kind item. Collectors are looking for items like that," said Van't Hul.
One of the Girard Auction owners stated that Van't Hul's assortment of toys was one of the nicest collections he'd ever seen.
The collecting bug bit him in 2003 when his mom moved from her house to The Homestead. "I found the Massey-Harris Clipper Combine that I'd played with as a kid," he recalled. "It was a little beat up, so I refinished it. Myrna did the painting. She's a much better painter than I am."
His initial plan was to only collect toy replicas of tractors he'd used on the family farm. He was confident that a three-shelf display case would hold that collection.
"But other collectors just laughed at me," recalled Van't Hul with a smile. "They told me that's how everyone starts. Then the collections just grow."
The farm toy collection filled display shelves in the Van't Hul garage. The Hull Kiwanis came to look at the toys and so did residents of Pleasant Acres Care Facility.
Through trial and error Van't Hul learned to buy high-quality and good pieces of toys even when they cost a lot to purchase. They always hold and often increase their value, he explained.
He also focused on boxes the toys were packaged in. "Sometimes the box is worth more than the toy," he said.
Just because he's selling a big part of his collection doesn't mean Van't Hul has stopped looking at farm toys. These days he's very choosy about what he'll buy. He often looks for one-of-a-kind custom pieces collectors value.
"I've collected because it's something I enjoy and I've had the opportunity to meet a lot of really nice people," he stated. "These days I'm interested in doing some custom building. It keeps me connected to farm toys without filling up my display shelves."
He's taken a 1/16 scale tractor and made it into a puller tractor by adding big silver wheels, a roll cage and tank on the front. It is precise work that he enjoys.
What about the 1,000 pieces he still owns? "I'm not sure," he admitted with a smile. "Maybe my kids will get all of them."