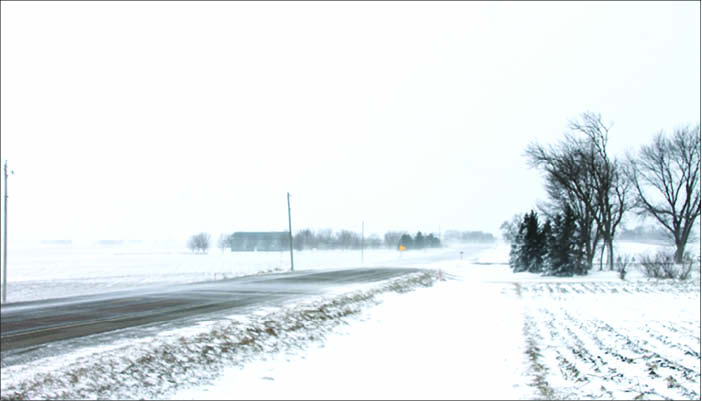 When it comes to the weather, what a difference a day or two in northwest Iowa can make. As everyone says, if you don't like the weather, come back tomorrow and it will be different. That was certainly the case this past week.
In early February, Groundhog Day predictions by Punxsutawney Phil was for six more weeks of winter, yet, not all groundhogs agreed with Phil. Staten Island Chuck, who actually has an 80 percent accuracy rating, predicted an early spring. He was in agreement with Shubenacadie Chuck from Nova Scotia. With these kind of predictions, it's up in the air and difficult to say if March will come in like a lion or a lamb.
Even the tulips are confused. Several people have said the flowers were popping up already. The robins are here and the geese are flying back. The wacky weather has everyone confused, and the temperature roller coaster also continues. Early spring-like weather had people out enjoying the sunshine and warmth early in the week. Temperatures in the 60s to near 70 degrees allowed kids and adults to take advantage — walking, playing outside — and bikes, motorcycles and golf carts were seen all around the area.
The unseasonably warm temperatures continued through Wednesday with several record-setting highs above 60 degrees. On Tuesday, Feb. 21, Sioux City hit a 73-degree record high,and also broke Wednesday's record with a high of 71 degrees. Sioux Falls also had a 68-degree record-high temperature Tuesday.
All of these are sure signs of spring but a winter storm changed all of that. The nice weather was short-lived and the snowmobiles were out again. Winter coats were hauled out as a weather watch was issued early Wednesday. Thursday, the watch turned into a warning and was later updated to a blizzard warning with 8 to 16 inches of snow expected in the area.
Snow began falling early Thursday afternoon and things began to change. A cold front pushed colder air into the area Thursday. A 25- to 35-degree temperature swing dropped temperatures into the 20s and 30s locally. By evening, it was a full-blown snowstorm, as had been predicted. Sioux County Sheriff's Deputies advised of snow-covered roadways, poor visibility due to blowing snow, and very slick roads. Precipitation intensified over Thursday evening.
The blizzard warning continued Friday with north-northwest winds at 15 to 25 miles per hour with gusts to 40 miles per hour. As of 6:30 a.m. Friday, Sioux City had 9 inches of snowfall, while Sioux Center had around 4 inches. However, it was still blowing and growing bands of snow threatened Sioux County. Strong winds and white-out conditions continued until noon, dumping an additional 1.3-3.4 inches.
Area schools were closed, sub-state basketball games were rescheduled and some businesses also anticipated closings. The Hull Co-op Feed Department urged farmers to plan ahead for their feed orders as they expected to only be taking emergency feed orders by Friday.
As Friday progressed, the storm lost its intensity and by noon, the blizzard warning was cancelled by the National Weather Service in Sioux Falls. The weather gradually improved by late Friday afternoon and evening. Snow decreased but some wind continued, resulting in areas of blowing snow making icy roads.
According to the National Weather Service, the storm broke one major record with 8.2 inches of snow in Sioux City. Varying amounts of snow in different areas included,7 inches Sioux Center,4.5 inches Hospers, 4.5 Rock Valley, between 6.0- 8.5 Sioux Falls, 6 Orange City, and 5.5Sheldon.