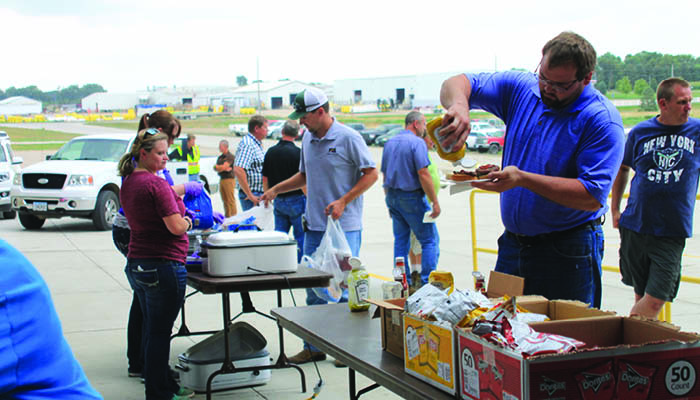 After nearly two years of construction, Farmers Cooperative Society's new feed mill is completed and ready for use. Since the groundbreaking in August 2015 and the digging in November 2015, there have been a few delays. Jared Terpstra said, "It seemed like every time I came over here it was raining." Terpstra from Sioux Center oversees all six of the Farmers Cooperative Society's feed facilities as the feed division manager.
An open house at the new feed mill was Tuesday, July 18. Sioux County Pork Producers grilled around 600 pork burgers that were served with chips, water and cookies by the Farmers Cooperative Society employees. Tours of the new facility were given to approximately 450 people.
There was a lot of interest in the new feed mill. "It's not every day you open up a feed mill this size in this capacity in the area so it brings out a lot of curious people," Terpstra said.
The control/computer room is the brains of the operation. The mixer is the heart of the operation. The grinding tower is the brawn/muscle of the operation. And all the legs and all the different things going out would be like the veins and arteries, as described by Terpstra.
When the mill is running 24 hours/five days a week at maximum capacity, 3,000 tons of feed a day will be produced, equaling 780,000 tons per year. The pellet line will produce 1,000 tons and there'll be 2,000 tons of meal. This demands about 75,000 bushels of corn daily. "It also equates to about 300 acres of corn needs to be produced in order to bring that in," Terpstra said.
The increased need for feed is the main reason for building the new mill. Livestock is a vital part of the northwest Iowa economy right now. According to Terpstra, customers are ramping up production to supply pigs to a new packing plant in Sioux City.
"We're going to be moving out approximately 125 semi loads per day of completed feed going to the customers," said Terpstra. He expects to receive about 40 semi loads of ingredients per day. The corn hauled in by producers makes up about a quarter of the diet and the other three quarters is additional ingredients needed to make the feed.
The Boyden feed mill is swine-specific. Other Farmers Cooperative Society mills will still supply beef, dairy and poultry feed. Terpstra explained that making different kinds of feed for multiple species slows down the process because you have to flush between batches, which takes a lot of extra time. Mass production helps avoid this.
Farmers Cooperative Society also want to be sure it's getting the feed to customers on time.
The efficiency of the feed mill will make that happen. It takes about 6 minutes to fill the bins and then only 1 more minute to load the semi. Unloading ingredients will vary from 3 minutes for corn, bean meal or soybean or distillers and a little more time for the ingredients like limestone that are heavier.
"Everything's computerized," Terpstra said. This means there's less manual adjusting and less room for human error.
A special air system in the feed mill pulls the dust out of the air and puts it back into the mix, essentially eliminating most of the dust. This also helps with product shrinkage. The work and community environments are cleaner, too.
Pellets and meal products will also be made within the mill. Pellets are sometimes more digestible for pigs. Also pellets flow out of bulk bins easier than meal feed. As needs for pellets increase in the future, the mill has additional room to add a second pelletizer.
Terpstra expects production to ramp up soon. "I would project that this feed mill may be full in a year or two," he said. He expects to move tons to the Boyden mill from the Farmers Cooperative Society's other mills, adding capacity to all the company's mills.
The old Boyden feed mill will remain operational to make specialized feeds. It's production will probably be cut in half to around 400 tons daily, and will run only one 12-hour shift a day.
People were surprised at the impact the new feed mill could have on Boyden's economy. "The new feed mill will generate about $4.5 million in new taxable valuation, which would generate approximately $118,000 of property taxes per year for the city of Boyden," said Terpstra. He feels there is an opportunity for additional new businesses to come into Boyden such as a truck stop/gas station or a restaurant. "When you've got approximately 200 semi loads of feed going out and ingredients coming in, those individuals are going to be looking for a place to eat lunch during the day," he explained.
He feels the economic impact could be endless going forward. New jobs will be added within the mill and truck drivers will be needed too. This could mean new residents and additional housing needs. "We're excited to bring on this new venture and excited to see what we can do and hope it brings even more economic impact into northwest Iowa," Terpstra said.