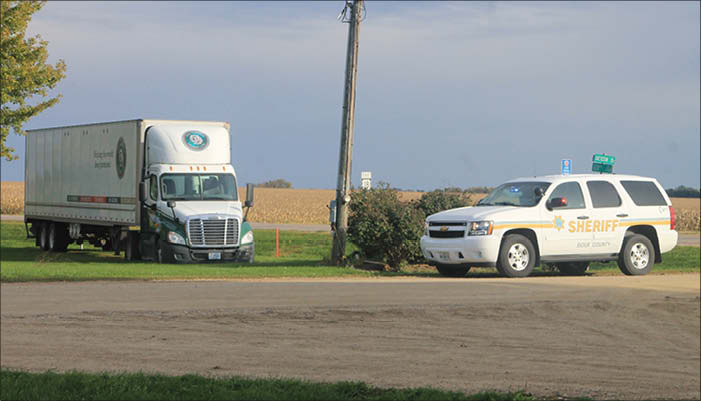 It's not often a semi lands on your front lawn, but it happened Tuesday, Oct. 10, to Arnie and Nell Warntjes. At 4:52 p.m., a truck skidded across their lawn at the corner of Highway 18 and Jackson Avenue three miles west of Boyden. The Sioux County Sheriff`s Office investigated the incident.
The truck driver, Daniel Schipper, 59, of Sioux Falls, South Dakota, was driving a 2014 Freightliner semi‐tractor pulling a freight trailer west on Highway 18. As he approached the intersection, several vehicles were stopped and waiting to turn onto Jackson Avenue. Since he was unable to stop in time, Schipper swerved to avoid striking the stopped vehicles. He took the north ditch and skidded to an abrupt stop when he sank in the Warntjes' front lawn. 
Although the semi and trailer were not damaged, the Freightliner sank to its axles on the soft lawn.
"They did a nice job," Nell said of the wrecker that pulled the semi out. "We had what, 7 inches of rain and that corner has always been wet." The sheriff's department estimates the Warntjes' residential property sustained approximately $1,000 in damage. 
"He felt bad that he messed up the lawn, but it's a lawn, it can be fixed," Nell said. The truck left some very deep ruts with water standing in them. "It could have been so much worse. At least no one was hurt," she explained. A little to the right and he could have hit their house or garage and a little to the left and he could have hit a maze of electrical poles, boxes and some bushes. Fortunately Schipper walked away unscathed and the only damage was to their lawn.
Even the truck wasn't damaged after taking such a bumpy ride. "He steered it well. If you look at the tracks, he goes right down, missed everything. He did a good job," Nell said. It was pretty amazing and once the truck was pulled out, she added, "He drove away with the truck."