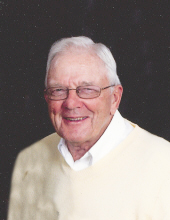 90
Sheldon, Iowa
November 17, 2020
Wilferd "Wow" L. Kooiker, 90, of Sheldon, Iowa, passed away Tuesday, Nov. 17, 2020, at his home.
Services were Saturday, Nov. 21, at Sheldon United Methodist Church with interment in Sheridan Township Cemetery, Boyden, Iowa.
Wilferd was born Nov. 26, 1929, on a farm near Boyden to Nick and Lena (Salie) Kooiker. On Jan. 1, 1951, he married Dorothy Bothof. They eventually moved to the family farm near Boyden. After he retired from farming, he delivered flowers for his wife's flower shop.
Survivors include his children, Rodney Kooiker, Curtis (Susanne) Kooiker and Cindi (Tim) Klein; six grandchildren; 13 great grandchildren; his sister, Shirley Kaminga, nieces, nephews, other relatives and friends.
He was preceded in death by his parents, his wife of 64 years, brothers, John Kooiker and Vernon Kooiker, and sister, Marjorie VanDyke.